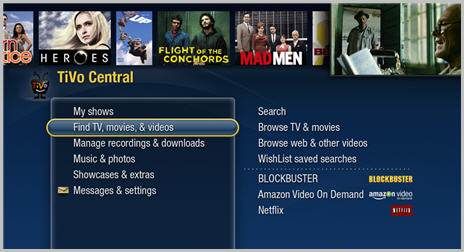 If some kind of ratio could be calculated to measure consumers' love for a product in relation to that product's actual market success, TiVo's score would undoubtedly top the list. Few products have ever achieved such undying fervor from their owners as have TiVo's. Yet at the same time, few companies have underachieved their market potential as dramatically as has TiVo since its inception ten years ago.
Despite my own love for my TiVo Series 2 box, not that long ago when I was asked by a friend what the future held in store for TiVo, I responded that with deep regret, I was hard-pressed to envision a happy ending for this plucky little company.
However, that was before last week when I had the opportunity to spend an evening with Jeff Klugman, TiVo's Senior VP, General Manager of its Service Provider and Advertising Engineering Division and David Sandford, TiVo's Vice President, Marketing & Product Management, Service Provider and Media & Advertising Divisions.
In addition to this time together, I also saw a presentation and demo of TiVo's new integrated cable TV digital set-top box offering and also hosted them for a "fireside chat." All of this happened at a CTAM of New England-organized session at a cable TV industry conference in Newport, R.I.
Much as I thought I'd never say this, hear me now: TiVo is going to be the Comeback Kid. And it's completely clear why. Read on to understand my logic.
The Old TiVo: Making Buyers "Crawl Across Broken Glass" to Enjoy the Product
An immutable law of TiVo ownership has always existed: once you get one set up, you will fall in love with it. With its simple program recording process, tantalizing ad-skipping capability, intuitive user interface and more recently, its endless series of innovations (home networking readiness, remote scheduling, TiVoToGo portability, WishLists, Amazon Unbox downloads, Universal Swivel Search, TiVoCast broadband video channels, etc. etc.) TiVo is a blockbuster consumer value proposition.
Despite all this, TiVo has always suffered from a problem that Jeff Klugman astutely describes: the company has essentially made prospective buyers "crawl across broken glass" to get from purchase decision to completed setup. Such a harsh assessment is well-earned. Consider: first TiVo required the user to find their way to a retail store (or go online) to buy the TiVo box, further cluttering the precious shelf space beneath the TV set. Then it required the buyer to select a monthly service plan that was on top of what the consumer already paid for cable TV or satellite service (to add insult to injury, TiVo did away with its $300 "Lifetime"plan a while ago). This change meant that a consumer's choice to have a one-time bloodletting was replaced with a requirement that TiVo stick its probe into your credit card for as long as you wished to continue getting the service.
But that wasn't all. Get the TiVo box home and you faced the oh-so-pleasurable task of contorting your body to access the back of your TV, while fending off that embarrassing swarm of dust bunnies lurking back there, all the while juggling a flashlight to figure out how TiVo's gaggle of wires should marry up to your existing gaggle of wires. Your persistent fear was that not only might you end up not actually getting TiVo to work, you might find that you irreversibly tampered with your existing set-up, reducing your TV to a snow-and-static haze. Factor in your family members glowering at you while you puzzled through this process and it's a pretty daunting and ugly picture.
This picture became even uglier when cable and satellite operators introduced a viable alternative to TiVo several years ago: simply pay a few extra bucks to them and you can have DVR features (ok, a sucky imitation of TiVo to be sure) built right into your new digital set-top box. So no contorting, fretting, glowering and of course, no extra box to buy and install.
TiVo's Picture Darkens Further
Given this rigmarole, it's no surprise that, despite the love fest people have for TiVo, it has only managed to sell a few million standalone boxes over the years, a relatively minor market impact. In fact, by far the majority of its market presence is through a deal with DirectTV, which contributes several million TiVo-enabled set-top boxes deployed. However, growth with DirectTV is over, with the company instead choosing to use technology from former sister company NDS instead.
The sudden popularity of high definition TV brought yet another huge challenge for TiVo. Eventually, as consumers fully understand HD, they will all want an HD set-top box, capable of delivering real HD programming. Right on the heals of HD, people will want DVR features - of course HD-capable. Cable and satellite operators figured this out a few years ago and stepped up by offering their HD-DVR integrated set-top boxes for just a few extra dollars per month.
But TiVo only recently managed to release its own standalone HD-capable box, the "Series 3." And while the box is a marvel of product design, it weighed in with an $800 price tag, a price completely discordant for consumers whose expectations have been set by the fact that DVD players can now be had for as little as $13 at their local Wal-Mart. Coincidentally, it's worth noting that just today TiVo announced a $300 version of the Series 3, which, while helping relieve upfront sticker shock, still requires the additional monthly service fees. And also the contorting, puzzling and glowering aspects of the installation process.
And Now for the Silver Lining in this Story
By now you're probably wondering how all of this doom-and-gloom is going to give way to the "Comeback Kid" scenario.
In fact, the secret to TiVo's success is, and has always been, jettisoning its hardware business model and becoming a software company. In other words, stop making boxes and instead just license the TiVo software to others whose boxes stand a better chance of being accepted by consumers (i.e. video providers). This was the vision from the start. I recalled reading a trenchant New York Times magazine piece that Michael Lewis (of Liar's Poker and Moneyball fame) wrote 7 summers ago in August, 2000 on TiVo and Replay, its competitor at the time. I was able to dredge it up (thanks, Google) and in it, Jim Barton, TiVo's co-founder, and current CTO plainly put it, "We'll know we've succeeded when the TiVo box vanishes."
With TiVo's promising, but ultimately unfulfilling deal with DirectTV unraveling, the company's real potential to deliver on its vision lay with making deals with the cable industry. For a variety of reasons not worth recounting here, those deals proved elusive until early 2005 when TiVo struck a deal with Comcast. Things started looking even better for this game plan when the TiVo appointed Tom Rogers, who has significant cable bona fides, as CEO in mid-2005.
Flash forward 2 years later and it is looking increasingly likely that TiVo is on the cusp of executing its original strategy, positioning itself, at long last, for its moment in the sun.
TiVo + the Cable Industry, A Match Made in ARPU Heaven
As summer turns to fall, Comcast, by far the largest cable operator in the US and Cox, the third largest, are planning their initial rollouts of TiVo-enabled HD set-top boxes.
After all these years, a more perfect time for TiVo and the cable industry to get together can scarcely be imagined. The incentives for these deals to succeed are very strong all around.
The cable industry is fighting hard to convince consumers to resist switching to Verizon and AT&T in the communities in which these telcos have rolled out their wizzy new video services. With telcos offering stiff price competition, ARPU (average revenue per unit) growth can only happen through new services, not price increases. Further, Comcast in particular has been working overtime to convince Wall Street that Video-on-Demand is its killer competitive advantage to satellite even while it struggles with its poorly-designed user interfaces which serve to impede, not assist, its subscribers' discovery of valuable VOD programming.
Enter TiVo. TiVo offers Comcast/Cox/the cable industry one of the best-known and best-loved consumer brands with which to align itself on a de-facto exclusive basis. As mentioned, DirectTV's deal is over. EchoStar's relationship with TiVo is toxic due to mammoth patent litigation between the two companies. Verizon and AT&T barely have the resources to get their networks up and running much less take on the challenge of how to integrate their set-top boxes with TiVo software.
Meanwhile, the cable industry continues to grapple with how to get more consumers to sign on for digital cable service. Years after its introduction, digital still remains a sketchy value proposition for many. But TiVo gives cable operators a powerful feature to goose demand. Further, since Jeff showed how elegantly TiVo has incorporated VOD navigation and recording into its UI, integrated TiVo service also offers the promise of addressing that cable operators' challenge in that area.
Last, but not least, on the assumption that TiVo service will carry an upsell charge of around $3-4 per month to the consumer (which are completely my estimates, with nothing having been disclosed by TiVo or its partners at this point), and assuming 2/3 of that goes to the cable operator, TiVo provides tantalizingly high-margin new ARPU growth for cable operators. Those high margins are made possible through the magic of OCAP, the cable industry's new standard for remotely downloading applications like TiVo to tens of millions of currently-deployed set-tops (i.e. no expensive truck rolls).
That Sweet Sound of Ka-Ching, Ka-Ching
To help understand the revenue and margin potential of the cable deals for TiVo, consider the following:
Pick your favorite analyst's forecast for DVR growth. Forrester, for example believes that by 2011 there will be 65 million DVR homes, up from somewhere around 15-17 million today. So net adds of around 50 million homes. Comcast and Cox together pass about 58 million or 53% of all American homes. So their proportionate share of those 50 million DVR net adds should be at least 26 million. If they market the service right, it's probably fair to assume that over time, at least 80% of DVR users are going to prefer the TiVo solution to cable's crummy homegrown DVR alternative (if this option even survives). If so, then these deals' potential is about 21 million homes taking the TiVo cable service by 2011.
Again, say the TiVo service costs an incremental $3 per month and then assume TiVo keeps a $1 of that, which is my approximation for the combination of its per sub and technology licensing fees. So, eventually 21 million new TiVo homes x $1 month x 12 months. Just from Comcast and Cox that would eventually total $252 million of annual revenue for TiVo. Now factor in when all the other cable operators smell the coffee and abandon their homegrown DVR solutions in favor of TiVo. And then of course it's inevitable that TiVo will sign up Verizon and AT&T. However in those deals TiVo should be able to negotiate to keep maybe half the monthly fee instead of just a third as they did with the cable crowd (hey, it'll be a proven service, plus the telcos will be playing catch-up, as usual).
To put all of this in context, for the fiscal year ending 1/31/07, TiVo's revenues were $259 million, so if the Comcast and Cox deals alone succeed to even a fraction of their fullest potential, they should still have a major impact on the company's financials. And bear in mind that if the cable strategy succeeds, then along the way TiVo's retail hardware business would have been euthanized, erasing all that low margin box revenue. What would be left is a high-margin software licensing and services powerhouse, ready to go international, add portable applications and generate all kinds of new features, such ramping up its already solid broadband programming lineup.
But perhaps most important, with TiVo able to track the viewing behavior of all of those millions of homes, its long-held vision of building out an ad-based revenue business based on precise user viewing suddenly seems attainable. Of course it'll be a little cheeky of TiVo to be pitching agencies and advertisers on these ad services after TiVo all but wrecked their traditional model with its ad-skipping features. But what choice will these folks really have if they want to succeed? And these meetings are already happening, and according to Jeff, who oversees all this, it sounds like all is forgiven and good progress is already being made.
The catch here is that initially TiVo is almost entirely dependent on Comcast and Cox putting enough marketing muscle behind this new service and executing it properly. So will Comcast and Cox do this? Though it's way too early to tell, given all of the aforementioned incentives, there's ample reason to believe that both will. For Comcast alone, which has borne the brunt of two years of arduous technical integration work with TiVo, failure to follow through with strong marketing would be a huge and embarrassing blunder. So I'm betting these savvy cable guys will get the marketing part right (if you're really interested in how, keep scrolling to see the below Addendum for a couple of sample marketing scenarios).
And if they do, then you heard it here first— TiVo is well-poised to become The Comeback Kid.
ADDENDUM: 2 MARKETING SCENARIOS FOR COMCAST
To make TiVo's potential more tangible, consider the following 2 scenarios. In both cases you just bought a 42 inch LCD or plasma TV. Of course you now need an HD-capable set-top box. You call Comcast to order one and here's what should happen:
Scenario 1: You own or have owned a TiVo Series 1 or 2 box
You're told that an HD set-top will run you $5.00 more per month than your current box. Then you say you're interested in DVR capability. "Ah," the Comcast rep says, "have you ever owned a TiVo?". You say "Yes." "Well", she continues, "did you know that you can now get the same (mostly) awesome TiVo service - including the familiar user interface, remote control and blooping sounds as you program the box AND have all Video-on-Demand programming expertly integrated into the service, only from Comcast? It is one of our most popular services, and I can offer it to you today for just another $8 more per month than the HD set-top box you want." You say, "let me get this straight, I'm already used to paying $13/month for my TiVo Series 2 service, so instead of paying that, I would pay $8 per month and get virtually all the same benefits of TiVo, but don't have to go out and buy another TiVo box? And this isn't the crummy DVR service I saw at my neighbor's house that I know you also offer, right?" "No sir, it's TiVo." "Any other sneaky upfront charges?" "No." "Any disconnect charges if I want to drop it?" "No." "Am I missing something here?" "No." "WOW, sign me up - what a great offer. Thanks Comcast."
Scenario 2: You've never owned a TiVo box, but you have some familiarity with the product because any number of friends, neighbors, relatives and co-workers have been bragging to you for years that it's the greatest thing since sliced bread.
You're told that an HD set-top will run you $5.00 more per month than your current box. Then you say, "I'm kind of interested in this whole DVR thing everyone keeps talking about." After the Comcast rep verifies you've never actually owned a TiVo, but that you're sort of familiar with what it does, she says, "Well, Comcast has a very special offer for you. TiVo DVR service has become one of our most popular services and we think if you experience it for yourself, you'll see why. So I'd like to offer you 90 days of free TiVo service. If you don't like it, simply call us at any time and we'll remotely remove it from your box. That means you don't need to wait at home for a technician to disable TiVo service for you." You ask what it will cost per month and upon hearing the answer ($8 more per month than the HD box base rate) you make a mental note to ask your friends, neighbors, relatives how much they pay, to see what kind of deal you're getting (later they'll confirm it's the same as they're currently paying for their Series 1 or 2 monthly plans). You see no downside to trying it, so you do. After you and your family use TiVo for approximately 3 days, you all fall in love with it and wonder how you could have ever lived without it. You call Comcast to say thanks.