Thursday, November 10, 2016, 10:16 AM ET
|
Early bird discounted tickets end tomorrow for the SHIFT // 2016 Programmatic Video & TV Advertising Summit on Wednesday, November 30th in NYC. If you register early you save $100 and also double your chances* of winning 1 of 3 Roku Ultra 4K players, generously provided by Roku. Additional discounts are available on 5-packs and 10-packs. And, startups and students can register for the reduced $245 ticket (contact me for the code).

SHIFT is going to be a jam-packed day of learning and networking with 40+ industry executives on a dozen different sessions. Attendees will hear from companies leading the charge into programmatic video and TV including ABC, A+E Networks, Alphonso, Altitude Digital, AOL, Beachfront Media, Cadreon, Cedato, eMarketer, FreeWheel, Foundation Capital, Fox Networks Group, GroupM, Havas Media, Horizon Media, Hulu, Magid, Magna Global, MediaLink, Modi Media, Nielsen, Operative, Optimedia, Placemedia, Prohaska Consulting, Roku, Spotify, SpotX, The Wall Street Journal, The Weather Company, TiVo, Turner Ad Sales, Univision, VertaMedia, The Vertere Group, Videology, WideOrbit and Xaxis and others.

Our amazing keynoters include Amanda Richman, President of Starcom USA and Dan Lovinger, EVP, NBCU, as our keynote guests as well as Lisa Valentino, SVP, Network Sales and Partnerships, Conde Nast & Chief Revenue Officer, Conde Nast Entertainment participating in a spotlight fireside chat.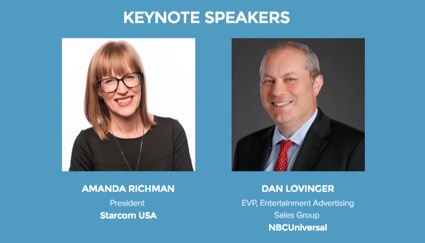 I hope you'll join us for this must-attend day of learning and networking!

Learn more and register now!

(* Early bird registrants get 2 entries each for the Roku Ultra drawings.)