Thursday, June 3, 2010, 8:59 AM ET
|
Search engine MeFeedia is announcing this morning a new real-time analytics suite for HTML5 video viewed using the company's All Player.
Content providers using All Player will be able to track a variety of data for video consumed across all devices supporting HTML5 - iPads, iPhones, Android phones and the web. They can view data by summary, recent, popular, devices, videos and channels to monitor an individual or group of videos' performance. Data can also be exported for offline analysis and viewing. The type of data tracked includes view-through rates, time watched, impressions and the viewing device.
As with the All Player itself, the analytics package is free.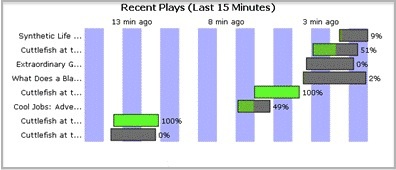 The analytics release follows MeFeedia announcing support for HTML5 advertising just before the iPad's recent launch. MeFeedia CEO Frank Sinton explained to me yesterday that though it's still early for HTML5, the company is committed to building out further HTML5 features for the All Player.
For those not familiar with All Player, which MeFeedia launched last June, it's targeted primarily to small and mid-sized content providers who want to improve their ad monetization. All Player's value prop is that it has integrated with key video ad networks, so that once an All Player content provider is approved, it can add or improve monetization immediately. Content providers can use All Player stand alone or in conjunction with their OVP.
All Player has moved MeFeedia from being solely a video search engine to also being a monetization partner. Frank explained that numerous providers now partner with MeFeedia, in some cases simply syndicating a feed of their content, which MeFeedia offers and monetizes through All Player, in turn sending a revenue share back to the content provider. Frank says MeFeedia is fully ad supported and is now profitable. As HTML5 emerges, adding complexity in the short-term to content providers' work flow, tools like All Player look even more important.
What do you think? Post a comment now (no sign-in required).