Thursday, December 5, 2019, 12:38 PM ET
|
I'm excited to announce the Connected TV Advertising Summit on June 11, 2020 in NYC. Please save the date!

Connected TVs (CTVs)* have emerged as a powerful force in the TV and video industries. According to multiple industry research reports, more than three-quarters of U.S. households now have at least one CTV, with many having two or more. CTVs are part of a critical trifecta – along with robust broadband access/WiFi and the proliferation of high-quality Internet-delivered (also called over-the-top or "OTT") video services – that are re-shaping the living room experience for many viewers.

CTVs are also benefitting from cord-cutting, which reached a new record of nearly 1.8 million U.S. households in Q3 2019. Cord-cutting means millions of pay-TV operators' set-top boxes are being disconnected annually, with CTVs often taking their place. Younger audiences are especially prone to cord-cutting, or never subscribing to pay-TV at all, which leads to brand advertisers losing access to this coveted segment.

eMarketer recently forecasted that CTV ad spending will jump by 38% to nearly $7 billion in 2019 and double to over $14 billion by 2023, in the U.S. alone. Over 50% of all OTT video ad impressions are now delivered via CTVs.

CTV advertising has enormous potential because it combines the best of traditional TV advertising's attributes while also offering the targeting, measurement and interactive capabilities of digital advertising.

VideoNuze's 2020 Connected TV Advertising Summit will bring together senior executives from brands, agencies, content providers, technology companies and other stakeholders for a full day of high-impact learning and networking. The CTV Ad Summit will be the most focused, in-depth conference of the year on CTV advertising.

Thousands of industry executives have attended VideoNuze events, which have been supported by dozens of industry-leading companies over the past 15 years.

If the future of your business is tied to the growth and success of CTVs, the CTV Ad Summit is a must-attend event.

To learn more about sponsorship opportunities please contact me.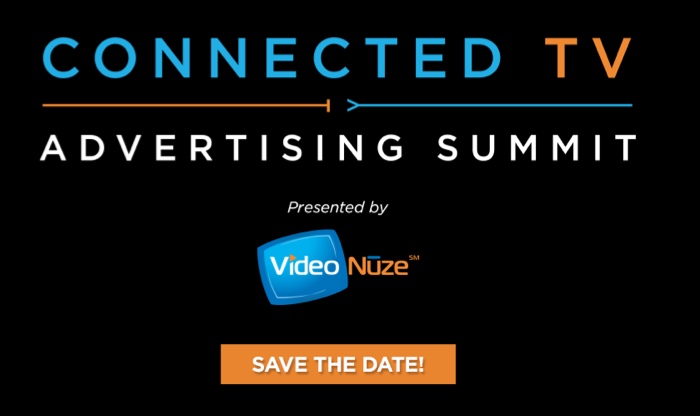 *Connected TV (CTV) refers to any TV that is connected to the Internet and can play OTT video content/ads and also display graphical ads. CTVs have the capability to return user data to device manufacturers, content providers and ad buyers. CTVs support secure transactions such as subscriptions and e-commerce.

Examples of CTVs are smart TVs as well as TVs that are connected to the Internet via streaming media players/sticks (e.g. Roku, Fire TV), gaming consoles (e.g. PlayStation, Wii), DVRs, pay-TV operators' IP set-top boxes (e.g. X1) and other devices.