Here's a classic example of how broadband is causing traditionally distinct worlds to collide: on Friday night the NYTimes.com opened up a dedicated streaming video window on their home page, where the presidential debate played for the full hour and a half. I watched the first half of the debate there, before switching on the TV and watching it on CNN HD. While HD was obviously superior, the NYTimes.com's video was more than adequate (though disappointing there was no full screen option).
Saturday morning and NYTimes.com is offering the video on demand, with an accompanying full written transcript. You can search (try typing "wrong" to see), to get how many times each candidate used that term, and then jump to the points in the video when it was used (alas, it would be great if the Times gave the ability to clip that specific segment and virally distribute it). The Times does offer a "check point" feature, where it fact checks the candidate's assertions. Note that other sites like ABCNews.com and CNN.com have the debate on demand today as well, but not the interactive features that NYTimes.com has.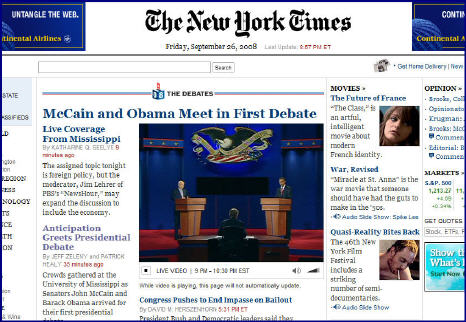 Stop and consider how significant all of this is - a print publisher using broadband to offer a clear alternative to broadcasters and cable networks in carrying high-quality video. It's a great value proposition just for people without access to TVs at the moment of the live event, but more important, it provides a glimpse of some very interesting additional opportunities for NYTimes.com.
For example, the site could host its own post-debate punditry show, assembling its all-star lineup of daily Times columnists. Dedicated Times readers would no doubt love to see a roundtable with Frank Rich, Tom Friedman, William Kristol, Maureen Dowd and others dissect the candidates' performances, rather than waiting for their thoughts to come in columns over the next several days. Also think about how this type of show would scoop Sunday talk shows like NBC's "Meet the Press" or ABC's "This Week with George S." in bringing serious punditry to political junkies who can't wait.
In fact, the NYTimes.com could even offer viewers the ability to interact with their columnists, building on the wildly popular commenting feature already available with each daily piece in the paper itself. This type of immediacy and interactivity would be very compelling. The site could also offer the live debate video stream with a companion chat area that would enable viewer engagement during the debate itself (see Paltalk for an example of how this could work).
And last but not least, NYTimes.com could offer a single premium sponsorship slot to underwrite its whole debate coverage. Think Mercedes, Four Seasons, Cartier or other upscale brands might be interested?
As I've said many times, broadband blurs previously siloed worlds, bringing more competition to traditional players like broadcast and cable networks. They now need to deliver more to stay competitive. For video entrants like NYTimes, broadband creates enormous new opportunities to both leverage core assets/talent and pioneer new and different ways to create value. Another reminder why broadband is so disruptive for so many.
What do you think? Post a comment.