ABC's Sarah Palin interview from late last week may have been a broadcast ratings success, but in my opinion ABCNews.com has missed out on many big broadband opportunities. ABC's broadband implementation shortfalls span the full gamut of navigation, usability and delivery quality, offering a further data point that many media companies have not yet recognized or capitalized on broadband's full potential.
The biggest interview of the political season was tailor made for on-demand consumption. No doubt millions of people flocked to ABC.com (the site most people would associate with ABC) to find the interview. However, ABC.com is the company's entertainment site, and there is currently no promotion of the interview at all. The visitor is required to guess that clicking on the "news" link in the main navigation will get them to the interview.
Sure enough, that links to abcnews.go.com where a large banner "SARAH PALIN: THE INTERVIEW" promises the opportunity to "WATCH NOW" (note also that by clicking the banner a pop-under ad is triggered, which is a very unusual ad implementation for a premium video site, not to mention highly annoying.) There's just one small thumbnail in the upper right linking to the Palin interviews.
Oddly, clicking on the banner brings you to a 2,300 word text story about the interview, with a few thumbnail images sprinkled about. That's a key implementation error in my opinion. Instead of text, that page should be a well-laid out assortment of videos, beginning with the option to watch the full interview either by its 3 segments or as one long episode. A link to ABC's text story would be great to offer, but not be the main focus of the page when users were expecting video.
Clicking on one of the various thumbnails launches the ABCNews.com video player, which then displays the 3 segments' thumbnails at the bottom. Here the issue is that there are no bite-sized clips displayed with specific interview topics (e.g. earmarks, abortion, foreign policy) of likely interest. Plus there is no way to search on those topics specifically. You'd have to watch each of the full 6-8 minute segments the Q&A section to happen upon the part you're particularly interested in. (Note that creating topical clips from the full 22 minute interview using a metadata management tool like Gotuit's VideoMarker Pro would have probably taken ABC News just an hour or so.)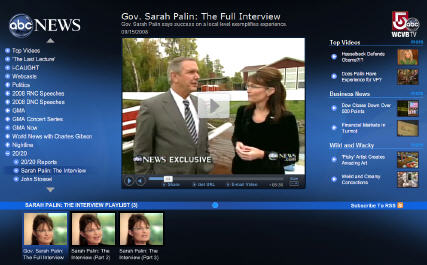 Meanwhile, there's also no way for the user to clip out custom segments, as Hulu and other sites currently allow. Enabling this would have been wildly popular among bloggers - and led to lots of viral distribution. The lack of topical clips creates another missed opportunity as ABC could have aggregated comments and video from other sites tightly related to these specific clips in order to create a really comprehensive user experience on a topic-by-topic basis.
Net, net, it's great that ABCNews.com is making the Palin interview available online. But taken as a whole, the user experience ends up being little more than a TiVo-like interview replay, leaving tons of engagement opportunity - and revenue - on the table. I recognize that doing the kinds of things I'm describing requires a robust content management system and staff. Many companies have not yet made these kinds of commitments to broadband - which just provides more evidence of how nascent the broadband medium still is.
What do you think? Post a comment.