Thursday, January 2, 2020, 11:01 AM ET
|
Happy New Year!

Recently, eMarketer forecasted Connected TV (CTV) advertising will increase from approximately $7 billion in 2019 to over $14 billion in 2023. The forecast gained a lot of attention in the closing weeks of 2019 as CTV came into focus as one of the industry's most important themes in 2020. To learn more and get behind the numbers, I recently interviewed eMarketer video analyst Ross Benes who was responsible for the forecast. A lightly edited transcript follows.

(Reminder, for a deeper dive, check out VideoNuze's Connected TV Advertising Summit on June 11th in NYC)

VideoNuze: eMarketer recently released a forecast showing CTV ad revenues increasing from approximately $7 billion in 2019 to over $14 billion in 2023. What are the key contributors to this rapid growth?
Ross Benes: One of the biggest things driving growth is that pretty much all TVs come with internet capabilities now. Anyone who buys a TV in the next few years will be buying a smart TV basically. These TVs often come out of the box with free ad-supported streaming channels on them. And they make it really easy to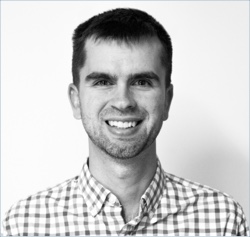 load Hulu or YouTube. Additionally, we expect cord-cutting to keep happening and for more people to use streamers as a replacement for traditional TV. So perpetual cord-cutting combined with streaming becoming even easier, just leads to much more time spent with CTV. And as people spend more time with CTV, advertisers spend more money trying to capture their attention. The increasing number of streaming options also contributes to the growth.

VideoNuze: Which companies are the biggest players in CTV ads today and how do you expect this to change over the next 4 years?

R.B.: Roku, YouTube, and Hulu collectively account for about 70% of US CTV ad spending today. I expect they'll remain the big three for the foreseeable future, however, I also expect NBCU, AT&T, and Amazon to make gains in CTV. NBCU's Peacock will become another significant inventory source and the company is rumored to be buying Xumo, so clearly they're putting a lot of effort into CTV. For AT&T, their HBO Max service will be sought-after inventory source when they roll out ads in 2021 and I expect AT&T to be one of the more important ad tech players in CTV with how they're building their Xandr division. Additionally, Amazon is only going to matter more as its video ad business keeps growing. So in four years, I expect those companies to be the biggest players.

VideoNuze: eMarketer highlighted incomplete measurement as a critical challenge that is holding back traditional linear TV buyers from moving more spending to CTV. Do you believe a unified currency will emerge for CTV? And even if it doesn't, will the massive shift in viewership toward CTV still mandate that ad buyers move some portion of their spending?

R.B.: I don't think a unified currency will emerge for CTV anytime soon. The market is too fragmented for something like that right now. Even if a unified currency doesn't transpire, I do think the shift in viewership will mandate buyers to move some portion of their spending to CTV. However, it won't be a 1:1 basis. Viewership will still move faster than corresponding ad spend for several reasons, the most obvious being that a ton of streaming happens on ad free services like Netflix and Amazon Prime Video.

VideoNuze: More CTV ad inventory is being created through new services and increased viewership. In addition, in 2020 we'll have the election and Olympics which will drive still more inventory. As a result, do you foresee CTV ad rates being under pressure in 2020?

R.B.: As supply levels rise, CTV CPMs should decline some. But I suspect that due to high demand and CTV's advanced targeting features, CTV will still keep its ad prices decently high. I also think that most election and Olympics watching will occur on linear TV than on CTV, so the pricing pressure will come more from new services (and existing services gaining users) than from these events.

VideoNuze: Cord-cutting continues to be a major theme in the pay-TV industry. With each set-top box that's returned, the industry's "advanced" or "addressable" linear TV viewing audience becomes smaller. Given this and all the Direct-to-Consumer services that networks are launching, do you envision CTV as ultimately becoming the industry's most important ad platform?

R.B.: Maybe one day but we're far from that. Right now we forecast that CTV spending is only about one tenth of traditional, linear TV spending. CTV is more exciting because it's newer and growing, but it's going to be many, many years before it's more important than linear TV.

VideoNuze: Looking ahead in your forecast period to 2023, what is the biggest change you expect in the CTV ad industry?

R.B.: A lot of people think Netflix will add advertising and they would list that as their answer here, but I don't think Netflix will add ads. Between now and 2023 I expect there to be more regularity in inventory sharing. If a publisher wants to work with Fire TV, Roku, or some of the bigger TV makers, they're usually asked to fork over a significant share of their inventory, around 30% or so. But Hulu and YouTube don't allow those companies to sell their inventory. And bigger publishers have been reported to get more favorable inventory splits than the less popular ones. It's pretty opaque overall. I expect eventually that there will be more clarity and uniform rates on this issue, across CTV devices as well as the streaming services. With TV, video distributors typically got 2 minutes of ads per hour. I don't think CTV will become that uniform, but I expect it to head in that direction and be less chaotic than it is today.

VideoNuze: Thanks!