Thursday, March 7, 2013, 9:30 AM ET
|
Another milestone today in advertisers' ongoing quest for clearer insights into how their TV and online video ads perform together: Extreme Reach, a company that until now has mainly focused on distributing TV ad creative to local TV stations, is announcing a suite of cross-media reports that integrate performance metrics from actual TV and online video campaigns. As a result, agencies and advertisers are able to optimize spending in each media and can understand how different permutations of spending and creative drive different results.

As viewers fragment their behavior over connected and mobile devices, the ability to measure ad performance across screens is becoming an increasingly urgent problem for advertisers. Because metrics for online video campaigns are silo'd from TV ad reporting, it is virtually impossible for media buyers to truly understand how the two sets of campaigns worked together.
As a result, genuine cross-media ROIs can't be calculated. This in turn is a bigger issue for online video because TV is the established medium; it is online video that must still prove its merit to a lot of buyers. Helping online video advertising scale and letting buyers understand how these campaigns perform are critical gating issues to unlocking more spending in online video.

In the first sample report below, Extreme Reach is able to show the number of weekly TV ad and online video ad impressions in a given TV market or (markets), with a performance line displayed for a specific performance metric for the online ads.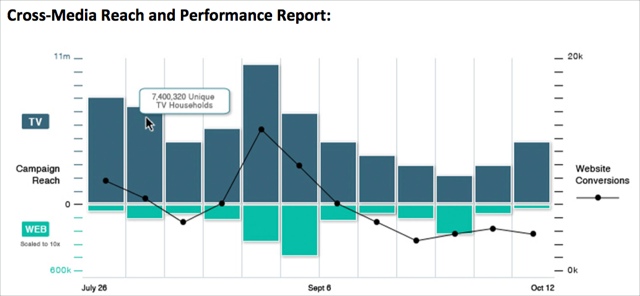 In this second sample chart, weekly TV and online video impressions are detailed further by specific creative, as noted in the different shadings of blue and green. One again, a performance metric for the online video ads is tracked and displayed.


These types of reports can be customized further, allowing agencies and advertisers to drill down on specific TV outlets, single sites, particular ad creative, etc. While a lot of this has been possible in the online video ad specifically, the big breakthrough here is that this data can be mapped against corresponding TV ad campaigns, allowing integrated, cross-media analysis.

How Extreme Reach accomplishes this is quite clever. As I mentioned earlier, Extreme Reach has been primarily in the business of delivering tens of thousands of TV ads to 7,000 broadcast TV stations from over 1,000 post-production houses on behalf of 3,000 different agencies and advertisers, using a SaaS business model. It competes mainly against DG (note that John Roland, CEO/co-founder of Extreme Reach and his team also founded FastChannel Networks, a similar business, which DG acquired in 2006. Extreme Reach also made a bid to acquire DG last summer).

Extreme Reach is already an exceedingly profitable company - John told me it generated $41 million in revenue in 2012 and he's forecasting $60 million in 2013, all on just $12 million in financing to date, about half of which is actually still in the bank.

John explained that as certain of their advertisers and agencies have expanded into online video advertising, they began voicing their concerns about the work flow complexity involved with getting their ads delivered, trafficked and measured as accurately as had been done in TV. Since the vast majority of online video ads today are mainly re-purposed TV spots, Extreme Reach already had most of them in house so it could easily deliver those ads to the relevant places and/or serve them itself.

But to enable the new integrated reporting, Extreme Reach had to understand precisely when and where the TV ads actually ran (that's not a problem with online because its ad server maintains all that info). To do so, the company has built a monitoring network for the top 50 markets in the U.S. (about 70% of the U.S. TV viewing population) that constantly "listens" to 42 top-rated broadcast and cable TV networks and detects when the relevant ads play, based on Shazam-style finger-printing techniques.

Without getting into too much detail, Extreme Reach has deployed redundant monitoring gear in 10 of its own offices and in 40 qualified pay-TV homes. The listening data is then blended with broader set-top box data and proprietary algorithms that calculate reach, frequency and audience information for the TV ads that then feeds into the cross-media reports.

As John notes, Extreme Reach's key differentiator with the cross-media reports is leveraging its TV ad distribution business. Because no company that operates primarily in the online video ad world also does this, it impossible to create these types of detailed cross-media reports. To be fair however, John also concedes that for many TV advertisers, it's still relatively early days; they've been able to use existing systems or manual intervention to handle online video ad distribution (even for the same TV ad creative) and they are not yet sophisticated enough to focus on cross-media performance.

That syncs with what I'm hearing in the market too; despite online video advertising's heady growth, it's still pretty immature. Extreme Reach is betting that's going to change as viewership fragments over devices and advertisers recognize they need to be where the eyeballs are - and track their ad spending and performance accordingly. That seems like a smart bet to me, and as this dynamic unfolds, Extreme Reach looks very well-positioned to capitalize.