Thursday, May 26, 2016, 11:54 AM ET
|
Yesterday research firm Strategy Analytics released a forecast showing growth in domestic SVOD spending will slow slightly in 2016 vs. 2015 and then drop by almost 50% in 2021, to just 8% year-over-year. The 2016 slowdown is nominal - a $1.19 billion increase vs. a $1.21 billion increase in 2015, which could be easily tweaked by minor changes to churn rates, as just one example. Domestic SVOD spending in 2016 will be $6.62 billion, still an increase of 22% year-over-year, a growth rather most industries would happily take.

The key takeaway shouldn't be the current year forecast, but rather what's expected over the next 5 years, to 2021. Strategy Analytics Digital Media Director Michael Goodman said that the spending forecast was modeled assuming an 85% saturation rate of broadband households in 2021, comparable to pay-TV's current adoption (60% of households currently subscribe to one or more SVOD services), with Netflix alone accounting for 53% of subscriptions.
Netflix may have signaled a flattening of domestic growth with its Q2 forecast of 2.5 million domestic subscriber additions, down 24% vs. the 3.28 million additions in Q2 '15. However, the guidance Netflix offered for Q2 '15 back in April, 2015 also called for 2.5 million additions, which Netflix then handily exceeded. So who knows what's in store for Q2 '16.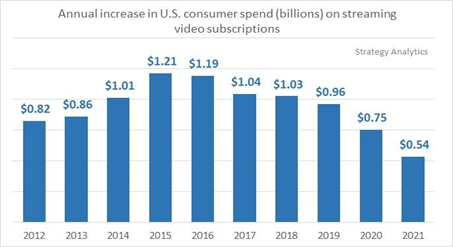 A bigger driver of the Strategy Analytics forecast's ultimate accuracy on spending growth is tied to how many subscribers will end up taking multiple SVOD services. Strategy Analytics said almost 40% take at least two services currently. By comparison, Parks Associates' Brett Sappington said in a recent NABShow presentation that just over 20% of subscribers take 2 services, around 7% take 3 and around 5% take 4 or more. By Parks' count there are 101 different SVOD services currently available in the U.S. and many are spending heavily on original content.

With the number of homes taking more than 2 services still relatively low, there's clearly a lot of room to grow multi-service subscribers. But will this expansion actually happen? Bernstein's Todd Juenger recently shared focus group research indicating that many older cord-cutters have set a budget of around $20 per month for their SVOD expenditures. Since cost-savings was the primary reason for cutting the cord in the first place, they're likely to adhere closely to their budgets.

The other factor tamping down multiple subscriptions is complexity. Do people really want to manage multiple subscriptions from multiple sources? Simplicity and a single bill has always been the beauty of the pay-TV model. This is why I've been bullish on Amazon's Streaming Partners Program's ability to offer one click subscribe/unsubscribe to numerous SVOD services, all included in just one credit card charge. In fact, absent any other robust SVOD bundler, Amazon could end up playing an outsized role in driving multi-service subscriptions.

Yet another variable is the potential rise of skinny bundles. While I'm mostly skeptical about skinny bundles, if they did catch on, and therefore reduce expensive pay-TV subscriptions, more household budget could be freed up for additional SVOD services. Admittedly a number of things have to happen for this sequence to play out.

The bottom line is there's still a lot of uncertainty with how the SVOD business is going to sort out over the next 5 years. SVOD providers are investing massive sums in original content development, banking on a continued rise in subscribers to earn a healthy ROI. But many factors cloud whether the reality will ever catch up with the hype. Depending how things settle, the Strategy Analytics forecast could end up looking conservative or optimistic. Time will tell.