Wednesday, August 17, 2016, 11:45 AM ET
|
Yesterday Amazon placed pilot episodes for 10 of its of its original programs on YouTube and Facebook. On the surface, this seems like a smart move, allowing these huge communities to get a taste of popular Amazon shows like "Transparent" and "The Man in the High Castle." Amazon's larger goal is to hook viewers and convert them to Prime membership. Free access to pilots have long been available at Amazon itself.

Clearly it is still very early in terms of mining the potential of YouTube and Facebook, but a day in, it's somewhat surprising to see how few views there are. On Amazon's YouTube channel, which has a cumulative 34 million views to date, "The Man in the High Castle" has done the best of the 10 pilots, but has just 1,583 views (see below). A distant second is "Transparent" with 258 views. Kids show "Tumble Leaf" is last with only 71 views.
But relatively speaking, YouTube is going gangbusters compared to Amazon's Facebook page. There, "The Man in the High Castle" leads, but with just 45 views, followed by "Red Oaks" with 7 views. "Transparent" has just 3 views. And of course it's not clear for either YouTube or Facebook how many viewers watched a pilot to completion, much less how many then converted to Prime membership.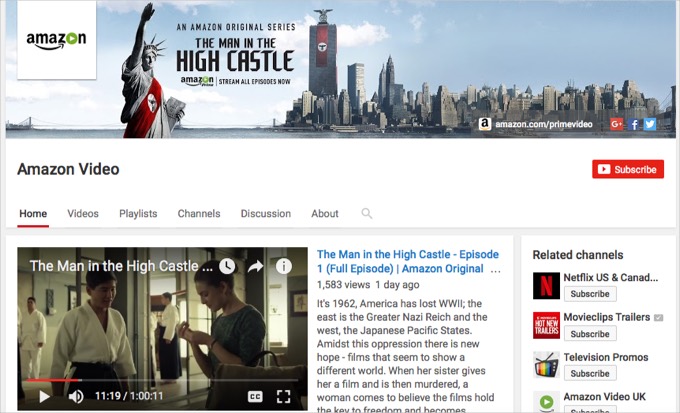 Again, it's early for Amazon in making these episodes available so it wouldn't be fair to judge whether they're succeeding or not. Amazon has likely done no promotion yet in either YouTube or Facebook, so the probability that a user would even be aware of the episodes is pretty low. For now, the lesson learned is that no matter how many millions of users a platform may have, it's not sufficient to simply post episodes and expect the floodgates will open.

More broadly, I like the fact that Amazon is experimenting, especially by targeting YouTube, the 800-pound gorilla of online video and Facebook, which has placed a huge emphasis on video with Facebook Live. Both represent a "fish where the fish are" approach, targeting users where they're already watching video and are therefore more prone to click and watch an Amazon episode.

Also noteworthy is that neither Netflix nor Hulu appear to make full episodes available in either YouTube or Facebook. There are lots of promotional clips (as with Amazon too), but no full episodes. They may have experimented in the past and found the approach didn't pan out. Or it may be that Amazon is breaking some new marketing ground here.

Either way, the YouTube and Facebook initiatives are further evidence of Amazon's ambitious plan to promote its originals as part of its push to gain more Prime subscribers. Amazon's CEO Jeff Bezos recently shared how prospects trying out Prime who also watch video convert to membership at a higher rate, while existing Prime members who watch video renew at a higher rate. All of this clearly gives Amazon incentive to promote video far and wide, to see what works and what doesn't.

No doubt we'll be seeing further experimentation from Amazon, especially as the company doubles its investment in video this year and has a greater variety of shows to promote. With marquee movies and shows coming soon, I expect we'll see a ramp-up of all kinds of Amazon marketing.