Thursday, April 21, 2016, 12:15 PM ET
|
Amazon is likely to have a majority of all SVOD services available in the U.S. included in its recently launched Streaming Partners Program (SPP) this year, setting the stage for the company to become the main third-party distributor for dozens of SVOD services. As this happens, there will be significant implications for the structure of the SVOD industry, not least of which will be changing the competitive dynamic between Amazon and Netflix, just as the latter's domestic subscriber growth appears to be flattening. Another important implication would be Amazon's impact on the U.S. pay-TV industry and role with cord-cutters.

Michael Paull, Amazon's VP of Digital Video, who runs the SPP, told me during our keynote interview on Tuesday at the NABShow Online Video Conference that he expects "dozens" of SVOD services in the U.S. will become part of the SPP in the coming months. When added to the 30+ SVOD services already available in SPP, the result would be that the majority of U.S. SVOD services would be part of SPP. (Note, according to Parks Associates' recent research there are 98 U.S. SVOD services aside from Netflix, Hulu and Amazon currently available).
Already part of SPP are SVOD services from Starz, Showtime, Acorn TV, History Vault, Tribeca Shortlist and many others. Earlier this week, NBCU said that Seeso, its comedy SVOD service, will be available in the coming weeks. Amazon already promotes these SVOD services with a link to "Add-on Subscriptions" in Prime Video and with a link to easily manage "Your Video Subscriptions."

But this is just the tip of the iceberg for how Amazon is going to create value for SVOD partners. In the interview, Michael emphasized that Amazon is going to use the massive usage data and profiles it has on tens of millions of Prime subscribers to identify and promote specific programs on SVOD services.

Michael offered a glimpse of how this will work, pointing to the targeted promotion Amazon recently did for the season 2 premiere of the Starz series "Outlander." Michael said that the promotion drove a record number of Starz subscriptions, though he declined to provide specific numbers. He noted that the key difference is being able to target the promotion based on the actual behaviors of potential subscribers ("propensity segments"), rather than on demographic behavior.

When you stop and consider the data that Amazon has on its users, and its ability to do sophisticated data analytics that result in highly personalized program-level recommendations to users that are then pumped out in home page, email, Prime Video app and other messaging channels, Amazon has the power to become a pivotal source of new subscriptions for SVOD services.

Beyond its promotional capacity, Amazon is positioning itself to dramatically simplify operations for SVOD providers. Michael said that as part of SPP, Amazon is providing integrations with virtually all connected devices, so SVOD services don't need to deal with this headache at all. Amazon is also providing billing, credit card management, hosting and delivery so all of these backend operational tasks are addressed as well. As Amazon continues to innovate with features like X-Ray and downloading, these too become valuable for SVOD partners. Michael also observed that from the viewer's perspective, all content is available and discoverable in just one single Prime Video app so there's no more opening and closing multiple apps to find specific content.

All of this means Amazon is in a position to become a critical partner to a wide swath of the SVOD industry. I have long believed that many SVOD services are unlikely to gain critical mass for a variety of reasons (in fact Parks research revealed that the 98 current U.S. SVOD services outside Netflix, Amazon and Hulu have attracted just 5% of the market between them). If Amazon can position itself as the key partner driving new subscriptions and lowering operational costs, it could become extremely valuable in the ecosystem.

As that occurs, Amazon will also change the competitive dynamic with Netflix, the 800-pound gorilla of the SVOD market. Netflix has grown fast due to its ubiquitous brand, licensed and original content, integrations with dozens of devices and superb user experience. But by educating the market about joys of SVOD and binge-watching, it has also laid the foundation for Amazon to become the one-stop shop for all OTHER SVOD services, available with one-click access. Despite all the billions Netflix is investing in original content, there will always be a lot more content available outside Netflix than within it. And there will be targeted services, like Seeso, that super-serve specific audiences better than Netflix ever will.

Again, because viewers' time and budgets are finite, the easier access becomes to non-Netflix content, the harder it will become for Netflix to add new subscribers and retain existing ones. Our household is a perfect example - we've begun fragmenting our viewership to Prime Video and to Showtime, which we easily subscribed to via Amazon, in turn reducing our Netflix consumption. When our Netflix rate increases soon - as it will for millions of others - that could prompt us to take a break from Netflix entirely.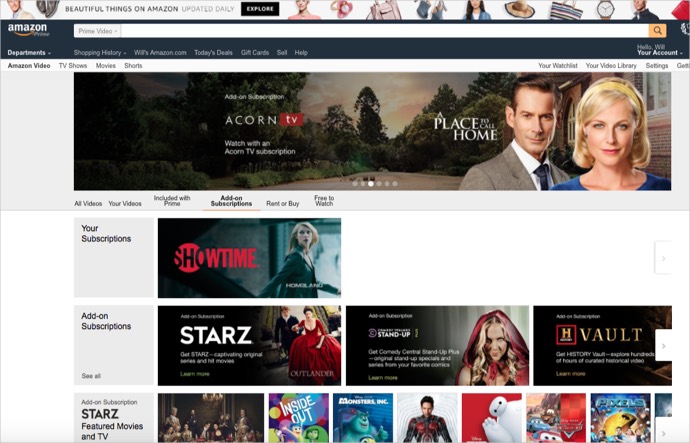 In short, while Netflix invests billions in original content, Amazon is focusing on aggregating the entire SVOD industry, no doubt soon featuring a plethora of discounted bundles building on its own newly available $8.99/month Prime Video option. Amazon users are going to be bombarded with offers and targeted content that will cause Netflix to spend even more on marketing to keep up.

Of course, you can't talk about discounted bundles of content without also thinking of the pay-TV industry, and that's another business Amazon is going to impact with its partner program. In our discussion, Michael noted there are now over 20 million broadband-only U.S. households and Amazon believes these are exactly the people looking for choices that Amazon provides.

I pressed Michael on whether Amazon's choices will help drive even more cord-cutting and cord-nevering. Of course he wouldn't take my bait, but it seems almost inarguable that as SVOD choices become more easily available, an increasing segment of people will opt out of pay-TV (once again, I believe "entertainment-only" viewers are the most vulnerable to SVOD disruption).

In a sense, the Amazon partners program can almost be viewed as a next-gen pay-TV business - a base tier of video ($8.99/month), with a whole slew of add-on content choices. Today all of these are ad-free, but one could easily envision a light ad load being introduced as well (I asked Michael about that possibility too and he said he had nothing to say at this time…perhaps there's a surprise presentation to be made during the NewFronts?).

As I said in my prior post about SPP, there's a huge caveat to be included here which is that a lot of SPP's potential still comes down to great execution. On that front there is still work to be done. One example is that when I use my Fire TV to search for programs I know are in SVOD partners' services, offers to actually subscribe are still buried beneath other ways to access the program. Yet another constraint is that it is impossible to subscribe to any partner service from an iOS device, which is no doubt related to the Amazon-Apple battle that is raging.

Over time the operational issues will likely be worked out and Amazon will have more evidence to share of how it's driving subscribers for its partners and reducing their costs. As more SVOD services continue to launch, many will realize just how hard it is to scale and operate an SVOD business, making Amazon an increasingly appealing partner. And for now at least, it appears to have the role of third-party SVOD distributor all to itself. Other than a small play by Hulu to bundle Showtime, nobody else appears to be pursuing a similar strategy.

As I've been saying for a while now, Amazon is the key company to watch in the online video industry.