Thursday, December 17, 2015, 11:43 AM ET
|
Amazon announced this morning that it has added content from NBC, NBC Sports, Watch HGTV, Watch Food Network, Watch Travel Channel, Fox Now, NPR One, GoPro and others to Fire TV. Amazon said there are now over 4,000 channels, apps and games available in Fire TV, which it believes is the largest of any connected TV device. Amazon also said Amazon is the top-selling connected TV device "across all retailers" from July-October, though it's not clear what retailers are included.

All of this additional content strengthens Fire TV, especially in the all-important holiday season. Conversely, I've been spending a lot of time with my Fire TV over the past week, and I've been surprised, and quite disappointed, with Fire TV's implementation (or lack thereof) of the 20 content partners Amazon announced on Dec. 8th as part of its new "Streaming Partners Program" (SPP).
My initial reaction to SPP was that it could disrupt the entire SVOD industry for a variety of reasons. However, I put the emphasis on "could" because execution is everything. I noted in that post that the iPhone implementation was incomplete (it's still not fixed, though an Amazon spokesperson told me they were troubleshooting it). Colin shared further SPP implementation issues in our podcast last Friday.

Having spent time investigating Fire TV for SPP content, I've observed inconsistent and incomplete implementations. Showtime is clearly the furthest along, with it highlighted in the Apps section under "Spotlight" with a strip under the "Homeland" image to "Start Your Free Trial Subscription Today." Clicking on that presents the offer, though it says pricing is $10.99 per month with a 30-day free trial, whereas online the offer is $8.99 per month with a 7-day trial.

But at least a Showtime offer is presented. Starz, the other big premium cable network announced as part of SPP, gets no promotion on Fire TV. Instead, "Starz PLAY" the network's TV Everywhere brand, is shown under "Top Free" apps. When clicking on it and prompted to open, the page says "Starz Play is included with subscription through participating TV providers."

But it also says if you're not a Starz subscriber you can preview the app and watch FREE full episodes of Starz original series. When I clicked on the "Activate" button I was given a code and a URL. When I entered it online, I was then presented with a list of TV providers. I clicked mine (Xfinity) and was prompted to sign in. There wasn't any cost information shared so it wasn't clear whether I would be adding this as a paid subscription (which I didn't want to do), so I closed out.

From there things get even worse for other SPP partners. On my Fire TV, I searched for "Fat, Sick and Nearly Dead" which is on Gaia, an SPP partner offering a $9.95 per month subscription after a 7-day free trial. The results prompted to watch on Hulu Plus (with a 1 week free trial) or buy/rent from Amazon in SD or HD (see below). No mention of Gaia at all.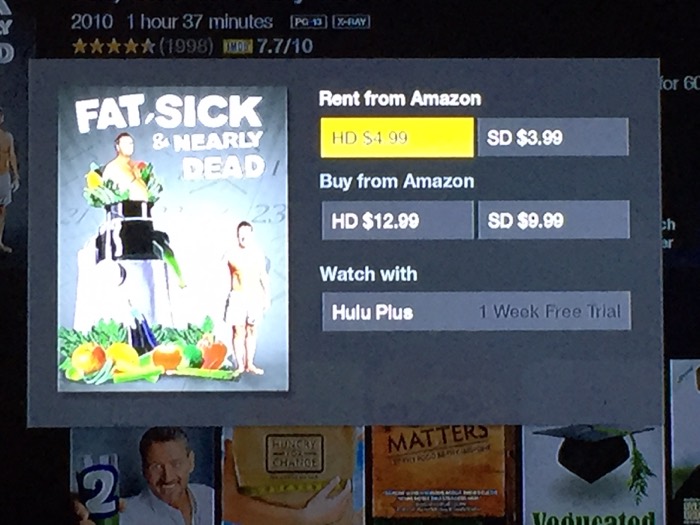 When I tried searching for "Angst" on SPP partner Shudder ($4.99 per month after a 14-day free trial), I was also prompted to buy/rent from Amazon in SD or HD. No mention of Shudder at all.

I also did a text search for "Taxi to the Dark Side," Alex Gibney's documentary available on SPP partner SundanceNow Doc Club ($6.99 per month after 30-day trial). I got the cover art image, but when clicking on it the message was "Video currently unavailable" (and when I did a voice search the results said "Your search did not match anything in our catalog.")

Last, I searched for the classic movie "Guess Who's Coming to Dinner" on SPP partner Tribeca Shortlist. Once again I was presented only with the offer to buy/rent from Amazon. But this time I went online and subscribed to Tribeca Shortlist there. I watched about 15 minutes of the movie and then stopped. I checked Fire TV to see if my subscription had been updated and the movie was visible, but it wasn't.

Several hours later I checked again and it was there and I could click to Resume watching. But there was no Tribeca Shortlist branding, mention of my subscription or other titles available. Further, when I checked the Apps section there was no icon there either. Days later, on the Home tab, 5 clicks down, "Tribeca Shortlist Featured Movies" did appear, though weirdly, "Guess Who's Coming to Dinner" wasn't listed to resume any longer.

Needless to say, any SPP partner reviewing the current Fire TV implementation would be underwhelmed. Fire TV is a huge opportunity for Amazon to drive SPP partner subscriptions with just a couple of clicks. (To make things even stranger, a friend told me he DID have this kind of seamless experience subscribing to Showtime, but on his Samsung Smart TV….go figure!)

I continue to be very bullish on SPP as a way for Amazon to curate SVOD providers and leverage its Amazon Prime platform just as it's done with its commerce platform for 3rd party merchants. But its so weird to me that Amazon has made so little effort integrating SPP into Fire TV. This is their flagship connected TV device and it deserves the highest attention from Amazon's developers. I'll be keeping a close eye on my Fire TV to see how things evolve.