Tuesday, November 20, 2007, 10:10 AM ET
|
As the broadband video world continues to coalesce around advertising as its primary business model, there is a flurry of companies seeking to improve the monetization process. As I've written before, this is critical work, because at some point the bloom will be off the broadband video rose if participants can't earn an attractive ROI.
Enter Adap.tv, which is addressing the ad monetization challenge. The company was founded last year and is based in San Mateo, CA. It is backed by Redpoint and Gemini and now has 20 employees.

CEO/co-founder Amir Ashkenazi recently gave me a run-down on Adap.tv's approach and progress. Amir was the founder of Shopping.com, which was acquired by eBay and he has brought together many former colleagues for his experienced management team.
Like its competitors, the heart of Adap.tv's model is its ad targeting and relevance engine. Adap.tv uses a "multi-disciplinary approach": analysis of the video/audio (context, metadata, etc.), analysis of the ad (keyword submission, etc.) and analysis of the user (demographics, location, etc.). This data is then fed to a matching engine to pair ads with the most relevant video. Over time the system optimizes based on actual click behavior.
Adap.tv is highly focused on overlays (Amir believes this will be the "de-facto standard" soon), and provides a series of customizable templates for advertisers (see below Kayak overlay). It is also positioning itself as a cost-per-click model, so there's no fixed cost to advertisers. In fact, advertisers can power Adap.tv ads using the same keyword feeds they use for their keyword campaigns.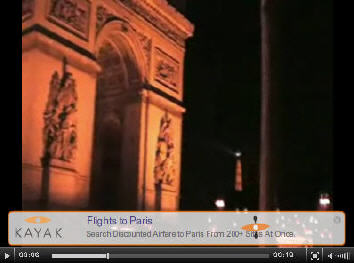 So far publishers have been responsive to the CPC model because they see overlays as opening up a lot of untapped inventory. Obviously implementing overlays needs to be done judiciously or the viewer experience will become cluttered and broken. Amir believes the whole broadband video ad model will move to CPC over time as advertisers become more sophisticated and focused on performance. This Google-like model would be very good news for advertisers, but would be a brave new world for traditional broadcast and cable networks long accustomed to CPM approaches in their traditional businesses.
While I think a more performance-based broadband ad environment would be welcome, I continue to believe a CPC/overlay approaches will ultimately co-exist with CPM/pre-rolls. There's a lot of interest in overlays, yet there are too many great 15 and 30 second TV spots not be re-used online and the CPMs are way too rich for big branded content providers to walk away from.
Other companies that are in the contextual analysis and/or overlay space include: ScanScout, Digitalsmiths (note: a VideoNuze sponsor), YuMe, blinkx, VideoEgg, YouTube, Brightcove, AdBrite, Viddler (which TechCrunch just wrote about yesterday) and others I'm sure I'm missing or are yet to surface.