Thursday, April 3, 2014, 10:53 PM ET
|
Among the apps launched this week on Amazon's new Fire TV was the ACC Digital Network, a joint venture between Silver Chalice and Raycom Sports. ACC Digital Network is the Atlantic Coast Conference's multimedia destination featuring live streaming and other original programming. In addition to being online, it also recently launched on Apple TV.

To get up and running quickly on Fire TV, SportsLabs, a division of Silver Chalice, turned to 1 Mainstream, a platform for deploying HD video services on a variety of connected TV and mobile devices that launched last December. I caught up with Rajeev Raman, 1 Mainstream's CEO (and previously head of product at Roku), to learn more about how the company is helping content providers quickly build and deploy apps.
Today's connected TV and mobile device landscape is fragmented from both a consumer and development perspective. As a result, content providers, who naturally want to have as broad distribution as possible, typically must prioritize a limited number of devices to assign internal and external resources to.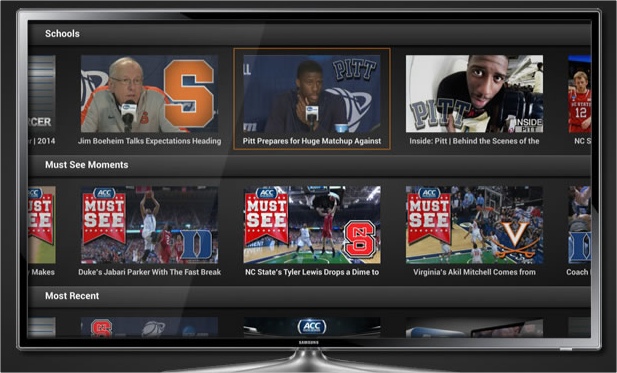 1 Mainstream has addressed this problem by creating an automated cloud-based platform for building native experiences. Rajeev walked me through a step-by-step demo, highlighting decisions a content provider would make along the way, such as whether to ingest video from an existing CMS (or use 1 Mainstream's), what business rules to apply, how to monetize, how to bill by device, DRM/authentication policies, geo-blocking, etc. Apps can handle both live and VOD content.

The starting point is to choose from among a number of different templates categorized by type of channel (e.g. movies, TV shows, etc.). These templates are then fully branded with the content provider's elements and particular artwork.

At the end of the process, the app is available for evaluation and modification. Once finalized, the content provider decides which devices to deploy on and 1 Mainstream handles the submission process to relevant app stores that it is pre-integrate with (iOS, Android, Amazon, Xbox, Roku, Samsung, LG, etc.).

The biggest advantages of 1 Mainstream are time to market and cost-efficiency. Typically apps take just 2-3 weeks to fully develop from start-to-finish and don't require expensive custom development (as long as nothing too fancy is required). This was roughly the timeline for the ACC Digital Network app that launched on Fire TV. Once an app is up and running, 1 Mainstream offers a full analytics package to track usage. Additional updates can be made easily.

1 Mainstream has been relatively quiet to date, only announcing that Sky News in the UK is using the system for its app and is also an investor, along with DCM and Menlo Ventures. Going in 1 Mainstream's favor - as this week's Fire TV launch underscores - is that the device space will remain a Wild West for some time to come. As mobile and connected TVs gain broader audience, content providers will have to deploy apps to keep up.

With its low-cost, quick time-to-market approach, 1 Mainstream should be kept quite busy.