Thursday, October 23, 2014, 11:05 AM ET
|
The next VideoSchmooze: Online Video Leadership Forum is coming up on Thursday morning, Dec. 4th in NYC and the program is continuing to get stronger, with 2 new sessions added: "TV, Disrupted: Online Originals Hit Their Stride" and "The Connected TV Audience: Not Who You Might Think."

Viewership of online original programming has been surging and there's now a massive ecosystem creating great high-quality originals well beyond marquee shows from Netflix, Amazon, Hulu, etc. For many millennials in particular, online programming is now more appealing than traditional TV. This session brings together executives at 3 of the biggest players in online originals - Fullscreen, DEFY Media and Vimeo, to discuss what drives originals' success, why fans are so engaged, how originals are being monetized and what it all means for traditional TV.

Helping enable online originals is the fact that connected TVs are now in more than half of all U.S. homes. But you might be surprised about who's driving this adoption. In a special research session, Tremor Video's head of market research Doron Wesly will present brand-new data about who owns connected TVs, how their behavior differs from traditional TV viewers and how this is changing the video ecosystem.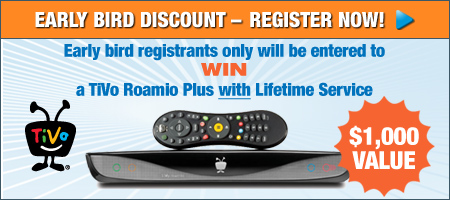 I'll be unveiling the final pieces of VideoSchmooze's exciting morning-only program in the next couple of weeks. As always, it's shaping up to be an amazing morning of learning and networking for 250+ industry executives who need to be in the know.

Early bird tickets are available now for $95, with 5-packs for $430 and 10-packs for $760. As an extra incentive, all early bird registrants will be entered to win a TiVo Roamio Plus DVR with Lifetime service - $1,000 value, generously provided by TiVo. I've owned one for a while and in my opinion it's the BEST connected device around.

I look forward to seeing you on Dec. 4th!