Thursday, October 1, 2015, 10:59 AM ET
|
Here's another great incentive to register early for SHIFT // 2015 Programmatic Video & TV Advertising Summit on Tuesday, December 1st in NYC: all early bird registrants will be entered to win a 50-inch Sharp Roku TV (value $450), generously provided by Roku. In addition, early bird registrants also save $100 off the regular rates. And remember, startups and students can register for the reduced $195 ticket.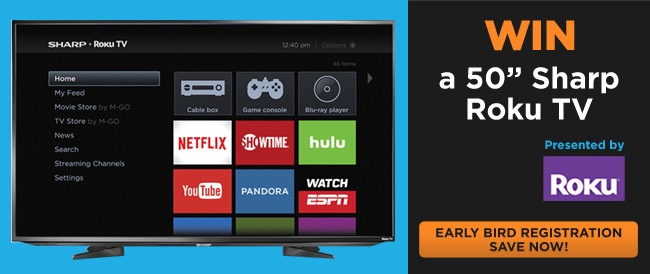 Roku is also on board as a Branding Partner for SHIFT // 2015 and will be demonstrating its product line in the exhibit area. I'm also pleased to announce that TubeMogul has come on as a Premier Partner and Beachfront Media has come on a Headline Partner. There are now 13 sponsors for SHIFT // 2015, including Adobe (Title Partner); Altitude Digital, FreeWheel and Videology (Premier Partners); comScore, Levels Beyond, Ooyala, Operative and SpotX (Headline Partners) and Alphonso (Branding Partner). I'm hugely grateful for their support of the inaugural SHIFT // 2015.

Programmatic video & TV were a recurring theme at many of the sessions I attended at Advertising Week in NYC this week. A lot of the discussion focused on automation and data benefits. Data was a particular focus in light of all the buzz around ad-blocking and the need to make advertising more relevant so that it is more acceptable to viewers. This week Magna Global also released an updated forecast that programmatic will grow from an estimated 26% of global desktop and mobile video in 2015, to 55% by 2019.

Keep an eye on the SHIFT // 2015 web site for more updates on the program and initial group of speakers. SHIFT // 2015 will be a premier day of learning and networking for anyone with a stake in programmatic video & TV. I hope you'll join us on December 1st!

Register now and save!