Paltalk, the long-time video chat technology provider, is announcing its Paltalk 9.9 beta release today, which includes a feature called SuperIM URLs, which allow users to initiate 1-click, in-browser video conferences without any client download. It's a clever feature that promises to drive higher adoption of personal video conferencing. Paltalk's CEO Jason Katz walked me through a demo yesterday.
SuperIM URLs work like this: say I'm a registered Paltalk user (either free or paid) so I've already downloaded the Paltalk software. I then select a personalized SuperIM address, for example http://www.wrichmond.superim.me. Then I begin publicizing the URL to friends, say through tagging my email signature, Facebook page or business card. People who see the URL simply click on it and, as long as they have a webcam, are instantly connected via video chat with me. Just so I don't have people barging in on me on a bad hair day, I can set privacy controls to always require accept/decline. I can also password-protect the link so I only hear from people I want to. I can also set it so only audio comes on first and I have to manually start the webcam.
I can have up to 10 people in a video chat and display the participants in different mosaics. The most obvious competition for SuperIM URLs is Skype, which I use for video calls. Jason agreed that while Skype does a lot of things really well, Paltalk SuperIM's big differentiator is that it does not require the caller to have downloaded any software to participate.
With SuperIM, the caller simply clicks on the URL provided and is connected. In effect, the conferencing capability is brought to users instead of the other way around. The goal is to make it so easy that anyone's "grandmother can use it" as Jason put it. Even though Paltalk has had its client downloaded some 70 million times, Jason acknowledged that it's a "busy Internet," and it's getting harder and harder to induce people to download any new software.
Another differentiator is Paltalk's multi-party capability, which Skype doesn't offer. This means that a Paltalk user could set up a multi-party video chat around a specific event simply by sending out the SuperIM URL to friends, asking them to click-through at a certain time (think "virtual Super Bowl party").
Going forward, Jason said Paltalk plans to eliminate the step of even having the initial user download the Paltalk software. Paltalk wants to become ubiquitous for mobile users and other portable devices like the iPad. Jason also makes an interesting point that with the spread of $300 Internet-connected netbooks with built-in webcams, personal video conferencing has become more accessible than ever. Paltalk is also aiming for tighter integration with Facebook, so users can initiate video chats to their friends.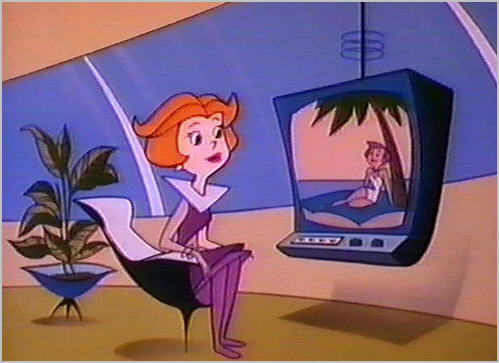 I vividly remember that George Jetson's video phone was just about the coolest thing I'd ever seen when I was a kid. SuperIM URLs are yet another indication that the Jetsons' world is upon us.
What do you think? Post a comment now (no sign-in required).
Filckr image via writetechnology