Friday, October 26, 2007, 11:50 AM ET
|
When I was in NYC earlier this week I caught up with my old buddy Lewis Rothkopf, who's now the VP of Biz Dev at PaltaIk. I got to know Lewis when he was at Lightningcast before it was sold to AOL. Lewis and Joel Smernoff, Paltalk's COO/President gave me a demo of their latest offering Paltalk Scene.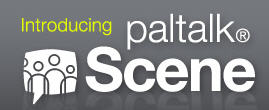 This product allows full video chat and interactivity in private or public rooms, with up to 5K participants per room. It enables what Paltalk calls "social-casting" which means that all chat room participants can watch the same video in the main window and comment/interact around that video. Kind of like a "virtual bar".
I think this kind of engagement around a specific video is very cool and is certainly going to become more popular going forward. Paltalk has already implemented with a bunch of partners including Lifetime for its new Lisa Williams show. And Paltalk is creating a slew of its own "programs" including comedy specials, celebrity "talk shows" and sporting events (wrestling, tennis, etc.).
For Paltalk the goal of these events is to upsell basic members to subscribe to the premium service so they can see video of other members. Down the road there are certainly many other models (PPV, subscriptions, software licensing, etc.). Any user is able to access Paltalk Scene to create their own room.
Paltalk also has an Active X control right now so content partners can embed the video chat window right into their web site, to both retain branding and also offer sponsorship opportunities. Soon there will also be a Flash embed version, which will allow Mac users to enjoy as well.
In short, Paltalk Scene seems like an easy-to-use system for content providers to deepen engagement with their audiences around specific video events creating a totally new user experience.