YouTube's announcement this week of "YouTube XL," an optimized version of its site meant for viewing on larger screens caught my attention as it appeared to be another building block in broadband-to-the-TV convergence. I spoke with Chris Dale, a YouTube spokesman to learn more.
On the one hand YouTube XL is a great offering for early adopters who have connected their computers directly to their TVs. XL offers large, easy-to-use navigation that scales depending on the size of your display and HD video quality. And Chris added that given Chrome and Android compatibility, XL creates some very cool functionality. Some video isn't yet rights-cleared, that will likely change over time. XL builds on the "YouTube for Television" initiative introduced in January for Sony PS3 and Nintendo Wii.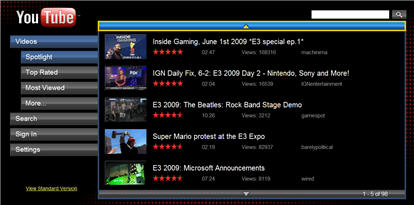 On the other hand, long-term, XL is a limited-appeal offering, because it reflects Google's browser-centric worldview. As Chris explained, from CEO Eric Schmidt on down, there's a conviction that the "browser as the platform" is going to dominate entertainment and information distribution. This is certainly the way the online world works today, as practically all of broadband-delivered video is consumed within a browser context. (In fact, this is one of the things that made last week's Hulu Desktop announcement so noteworthy, a large aggregator introducing an app that breaks the browser-only paradigm.)
The problem is that historically at least, the non-online, TV world hasn't been browser-based. Instead, various set top boxes (whether from cable/satellite/telco or from newer convergence players) rely on their own applications to present and manage video. Given this disconnect, new convergence devices and services will instead need to rely on YouTube APIs if they want to access YouTube's vast trove of content, unless they start building in browsers. This is how AppleTV, Sony Bravia, TiVo and others have worked with YouTube in the past. My concern is how much investment attention will convergence-oriented APIs be getting from YouTube when the company's emphasis is clearly on the browser.
Back in March '08, I wrote, "YouTube: Over-the-Top's Best Friend" in which I asserted that for emerging convergence devices and video service providers, YouTube would be the perfect partner. It has the best-known video brand, the largest catalog and the best promotional reach. I still believe that. YouTube could be a formidable disruptive force in over the top if it had a strategy to do so. With its browser focus though, it's hard to see that happening.
In these tough economic times, I don't blame YouTube, or others, from prioritizing. However, my sense is that by taking a more passive approach to convergence, YouTube is opening the door a little wider for others like Netflix who are more aggressively pursuing convergence opportunities, as well as incumbents like Comcast and Time Warner Cable who are just getting going on bridging broadband video to their set-top boxes. As the clear online video market share leader, YouTube has a pretty golden opportunity to aggressively chart new ground and cause likely market disruption. That it's choosing not to means others have a little less pressure on them.
What do you think? Post a comment now.