Wednesday, September 15, 2010, 9:41 AM ET
|
Last Thursday Google announced a new ad campaign promoting its display advertising opportunities called "Watch This Space." Having seen it in action for the first time, on the AllThingsD.com web site the last 2 days, it is clear that Google is giving YouTube center stage in this campaign. It's the first time I'm aware of that ad opportunities on YouTube have been so heavily promoted and I believe signals the growing importance of YouTube in Google's overall ad business.
The 300x600 Google ad unit (see below) expands to show 3 clickable tabs:
"Creativity in this Space" - a minute plus animated video that details all the things that can now be done in display ads such as enhanced customization and individual targeting. There's a distinct emphasis on video, with the narrator noting "Our research found that rich media ads

with video

lifted purchase intent 4 times better than standard Flash banner ads, raised awareness 5 times better, increased brand favorability by 15 times more."
"Marketing on YouTube" - Three separate video interviews, with Doug Jaeger, president, Art Director's Club, Steve Simpson, Partner and Executive Creative Director at ad agency Goodby, Silverstein & Partners and Dr. Bob Wagstaff, inventor of the Orabrush each attest to the reach, effectiveness and flexibility of video ads on YouTube, plus the improving quality of the content.
"Rich Media Advertising" - Shows 2 examples of the huge 960x250 top of page ads on YouTube.com, for "The Sims 3" and "Saw 3D" (an upcoming movie from Lionsgate) plus a rich media unit from Mini.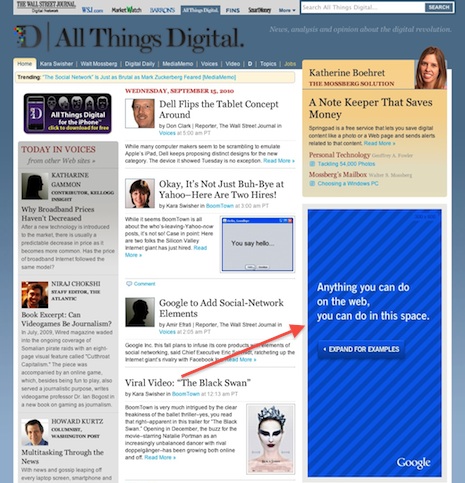 Even as Google is giving YouTube advertising more visibility, the site itself has made huge progress in the quality and number of brands using it for high-profile launches. This is especially true for the entertainment and gaming industries. Last month I informally tracked the ads in the 960x250 unit atop YouTube.com which included ones for "The Other Guys," "Resident Evil: Afterlife" and "Takers" (Sony Pictures), "The Last Exorcism" and "The Expendables" (Lionsgate, and recall the clever Stallone ad for the latter), "The Big C" (Showtime), "America's Got Talent" (NBC), Monster High (Mattel), Madden 11 (EA), Samsung Vibrant (T-Mobile), My Movie Pitch (American Express) and others. In short, it's a pretty impressive group of brands.
Just a few years ago it would have been unimaginable to see big brands spending big bucks on YouTube. While Google has been notoriously coy about YouTube's profitability, continually saying it's near or at profitability, without ever actually disclosing any numbers (which CEO Eric Schmidt reiterated just last week), the brands that are now associating themselves with YouTube say a lot about its newfound legitimacy.
YouTube's consistent online video market share of 40%, the launch of numerous connected devices, including Google TV, which give YouTube strong visibility and equal footing with established TV networks, the debut of YouTube's "Leanback" 10-foot experience and now Google's heavy promotion of YouTube's ad opportunities all mean we should expect to see YouTube gaining even more advertising interest from big brands. Nearly 4 years after Google acquired YouTube for $1.65 billion, the deal is looking smarter by the day.
What do you think? Post a comment now (no sign-in required).