Yesterday TiVo and Comcast announced that their joint service offering, known as "Comcast DVR with TiVo" is now available to Greater Boston residents. The announcement comes almost 3 years since the

partnership was announced. Multichannel News recently reported that Comcast has funded $24 million of co-development work to date. I have had the service since late October as part of the beta test, but the companies had asked me to stay mum until its official launch.

The first thing to know about this new service is that it really is familiar, lovable TiVo inside a Motorola cable set-top box. I am a long-time TiVo Series 2 owner, and as best I can tell all of the core TiVo features are available (e.g. Season Pass, Wish List, Suggestions) along with the inimitable TiVo blooping sounds effects. The box has a dual tuner so you can record one show while watching another. The navigation also incorporates all of Comcast's VOD selections, so all linear and VOD programs are considered in your searches. It's an HD-capable box, which can hold 15-20 hours of HD video. The peanut-shaped remote control is virtually unchanged.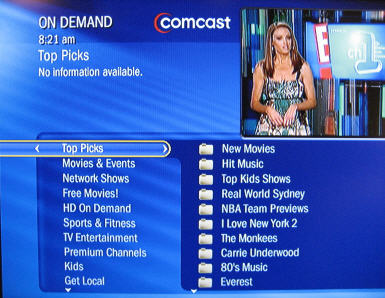 What's not included are all the wonderful broadband features (e.g. TiVoCast, Amazon Unbox, Rhapsody, Music Choice, Photos, Home Movies, etc.) and network features (e.g. remote scheduling, whole house service). The absence of broadband content (CNET, The Onion, NY Times, etc.) in particular will be missed. TiVo has gradually been introducing this over the last couple years. I've written a lot about broadband-to-the-TV solutions recently, and TiVo's approach has been very solid. However, Comcast obviously wanted to retain strict control over what video gets pumped into the set-top box. I have discussed this "closed" vs. "open" mindset earlier - hopefully something that will change down the road.
The service itself has mostly worked well. There were some initial hiccups requiring the Comcast service techs to return to the house and for me to call in for service. There are a few small issues that have persisted. These include periodically getting a green screen which requires me to turn the box on and off. I can't continuously lower the volume or change channels by suppressing the appropriate button on the remote control (this is possibly a TV-specific issue). I also find the service just a little less responsive than my Series 2 box - my fingers have had to adjust their muscle memory somewhat when working the familiar remote control. None of these are deal-breakers, but I do intend to have Comcast come out a take a look one of these days.
Comcast has priced the service at $2.95/mo, on top of its plain vanilla DVR service fee of $12.95/mo. I continue to believe that for consumers this proposition makes a lot of sense when compared with buying a standalone Series 3 box. It's a $3 delta over paying the monthly service charge directly to TiVo, but you avoid buying the Series 3 box (about $600 street price around $400) and potential maintenance and obsolescence issues. And it means one less box in your rack. The downside is the missing TiVo features described above.
If Comcast markets the TiVo service aggressively and correctly I think they can shift a lot of current DVR subscribers over plus add plenty of new ones down the road. It's a meaningful competitive advantage for a company caught up in a brutal battle with satellite and telco competitors. For TiVo, which has also done a deal with Cox (and others in the future presumably), it's a great shot at migrating itself out of the hardware business, into software and solutions.