A recent marketing campaign from Ritz-Carlton and American Express featuring three short original online films serves as a reminder to brands - and others - that even great content needs strong promotion for it to fully succeed. Let me explain.
Back in Nov '07, a long WSJ article entitled, "Ritz-Carlton Web Films Play Down its Ritzy Image" caught my eye. The article provided the backstory of the famed luxury hotelier Ritz-Carlton's innovative marketing gambit to pitch its brand to younger guests with three 10 minute films from hot young director Shyam Madiraju. The films were especially noteworthy because they portrayed younger guests in somewhat risque situations a clear break from Ritz's staid tradition.
At the time I remember thinking broadband was well-suited to Ritz's challenge; broadband would allow Ritz to go well beyond what it could convey in 30 second TV spots, not to mention print ads. By gaining such prominent coverage in the WSJ, the campaign was off to a very good start. (Whoever Ritz's PR firm was, they more than earned their keep that day!)
I made a mental note to keep an eye out for promotions for the films. Yet months passed and I never saw any. While I'll readily concede I may have missed them, if I was looking for them and didn't see them, that suggests a pretty low likelihood that people who weren't on the lookout saw them. The WSJ article had indicated that the films would be promoted on Yahoo, MSN, YouTube, all sites I frequent, yet I never saw any promotions there. I also expected email notifications, given that I've stayed at Ritz locations and they no doubt had my email address (and if they didn't, Marriott, which owns Ritz, and where I've stayed repeatedly, certainly does). In addition, I've been an Amex cardholder for years and I get promotions from them all the time.
I finally received my first email a couple of weeks ago with the subject line "The Ritz-Carlton Films presents 'Heads or Tails' and Exclusive Offers." This was the third of the three short films, which debuted on June 1st. I clicked through watched it (and the previous two) and thought they were all expertly done. They were sleek and provocative, luxuriously set at Ritz properties and subtly incorporated the Amex card in each. I found a few nits (e.g. why no full screen option?), but from the standpoint of conveying a hipper image while not alienating traditional guests, I think the films all hit the mark.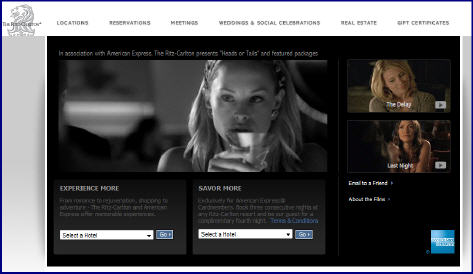 So from a content perspective, it looks like Ritz succeeded. My concern is whether a lot of people were exposed to the campaign and actually saw the films. I don't have the data to back this up, but my "experience of one" suggests that Ritz's promotional efforts were under-powered. I'm not that surprised; given this is new territory for brands as they essentially try to figure out how to "market a marketing campaign."
My advice is for brands to heed what Hollywood learned a long time ago: even great films and TV programs need great marketing to match (a recent example is the marketing blitz AMC is putting behind the premiere of "Mad Men" for its upcoming second season). As brands like Ritz create their own films and branded entertainment experiences, they need to remember that producing compelling content is just the starting point of accomplishing their marketing objectives.
What do you think? Post a comment now!