Monday, January 25, 2016, 11:17 AM ET
|
iSpot.tv has announced it is now measuring TV ad performance in linear, time-shifted, VOD and OTT video across 10 million connected TVs. iSpot is tracking TV ads' view rates, impressions and unduplicated reach, providing unprecedented granular insight into actual TV ad performance.

iSpot's founder and CEO Sean Muller explained that the new measurement system is enabled by deals the company has made with select TV manufacturers to integrate its technology with newer connected TVs automatic content recognition. As the ads viewed are anonymously relayed to iSpot, they are checked against the company's database of ads, gleaned from its core platform which tracks the entire media schedule in linear TV. The ads are then sorted as linear national, linear local or VOD/OTT as well as live vs. time-shifted. The length of each ad's play is tracked to provide the view time metrics.
Sean said that the 10 million connected TVs being monitored (which will grow to 16 million by the end of 2016) represents all DMAs, pay-TV operators and OTT devices, and are an even representation of household demographics and TV consumption between OTT vs. non-OTT viewing.

The result of all this tracking is that iSpot can reveal the average view rate of TV ads, which is a standard measure in the digital world. View rates are broken into quartiles, so advertisers can see exactly how an ad performed. iSpot can also report on when an ad was viewed - in national live or local, time-shifted, VOD and OTT. Using the syndicated dashboard, advertisers can drill into their specific ads and compare their performance to their broader industry.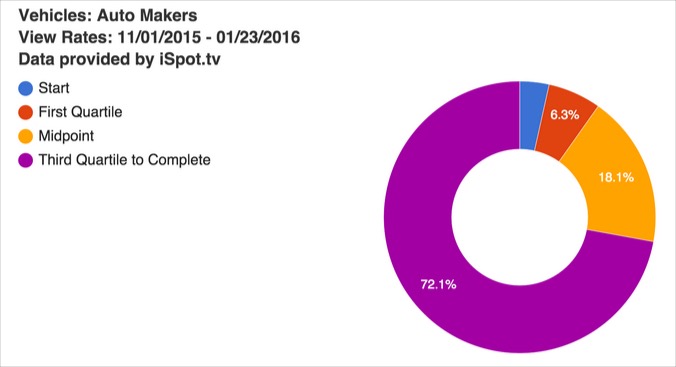 Sean said that the new measurement capability has been 2 years in development and has been tested over the past 6 months by advertisers in entertainment, wireless and CPG industries. Sean highlighted the value of the tracking to studios which often create multiple executions to promote a movie, but have had little insight on their respective performance. With iSpot data, studios get real-time feedback on view rates for their ads and can revise campaigns accordingly.

In a quick demo Sean did with me, it's clear there's huge variability in average view rates by specific ad and across industries, specific networks and time of day viewed.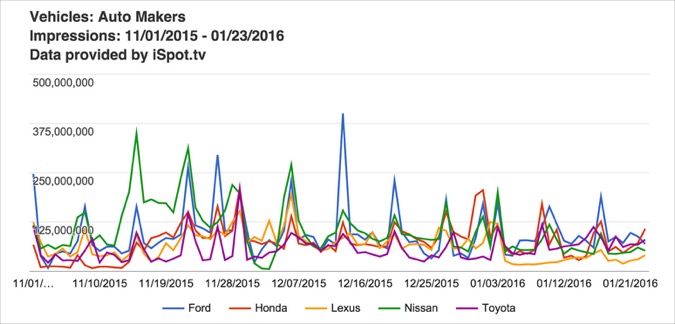 All of this is important because advertisers are more challenged than ever to get their messages seen. The rise in ad-free SVOD (Netflix, Amazon, etc.), ad-skipping enabled by DVRs, ad-blocking, fragmentation of time spent online and in gaming and the well-documented declines in linear viewing are all contributing to the increasingly difficult environment for advertisers. As a result, advertisers must be ever more vigilant in terms of where and when their ads are viewed and how well they worked.