After reading many different reviews over the weekend of the just-released iPhone 3G S, it's hard not to conclude that this device is going to be a serious catalyst for mobile video recording and consumption. Since I don't have an iPhone 3G S myself (I'm a Verizon subscriber), I've been relating to the iPhone phenomenon through friends and from what I've read.
Specifically, the iPhone 3G S is poised to push user-generated video content to a new level, as Daisy first explained on our podcast a week and a half ago. That's because, as reviews at TechCrunch, Business Insider and others have pointed out, the iPhone 3G S dramatically improves the convenience of the mobile video experience that Flip and other video cameras have pioneered. Certainly the biggest benefit is that iPhone 3G S owners will effectively have a low-end Flip in their pockets at all times, meaning they're ready to shoot video whenever they want, not just when they remembered to bring along their video camera.
I can relate to this because about 6 months ago I bought a Creative VadoHD video camera (basically a cheaper, somewhat more powerful version of the Flip MinoHD). It's a nifty little device, except for weak zoom and a lousy mic. But the big problem is that I never seem to have it with me at the spontaneous moment I want to shoot video. In other words, like my digital camera, it hasn't broken into the keys/wallet/cell phone must-have-when-leaving-the-house checklist. Nor do I expect it ever will.
To the contrary, iPhone 3G S owners will become conditioned to always having video capability with them. And because the iPhone 3G S is a connected device (unlike Flip, Vado or others), you can upload your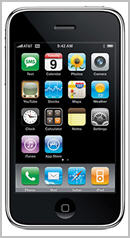 videos immediately, to YouTube, of course (and with YouTube's AutoShare feature those videos can now be distributed to Facebook and Twitter as well). The iPhone 3G S comes with video editing on the device, allowing you to instantly share just what you want. Simply put, having robust video recording and editing subsumed into a cell phone/smartphone is huge.
Of course the iPhone 3G S isn't perfect, nor is it for everyone. The biggest hurdle is that you need to be an AT&T subscriber, which rules out a big chunk of the market, unless you're ready to switch. iPhone 3G S video is SD-only for now vs. widespread HD-quality on Flips and others (though that will no doubt change soon enough). Actual battery life is still uncertain, and I for one continue to wonder how willing people will be to risk draining their batteries shooting and watching video.
Still the iPhone 3G S brings us closer to a world where no significant spontaneous event will ever go unrecorded. Things like emergency airplane landings and instances of police brutality will have a much higher chance of being captured in the future. That makes me think about what role iPhone 3G S and other video-enabled smartphone users can have in the traditional news gathering process? How can they tap into this energy to reinvent their own models? We've already seen the success CNN is having with its iReports. What's next, as news gatherers evolve to the instantaneous mobile video world?
The iPhone continues to set the bar in mobile video. But with other smartphones from Palm, Blackberry and Google being introduced, there is much more innovation still ahead. For sure we are moving into an era when mobile recording and playback is going to become commonplace.
What do you think? Post a comment now.