Wednesday, June 17, 2020, 12:27 PM ET
|
Heading into the NewFronts next week, the IAB has released its third survey of ad buyers since the pandemic began, finding, among other things, that 59% of respondents plan to spend more on Connected TV and OTT in the second half of 2020. Another 22% said they aren't planning any change and 18% said they plan to decrease spending.

Ad buyers were more bullish on CTV/OTT than any other digital channel though 56% said they plan to spend more on digital video that isn't on CTV, with 25% saying no change and 19% saying they'll decrease spending.
Respondents said they plan to increase CTV/OTT spending by 25% in Q3 and 27% in Q4. Only Q4 spending on social media (up 32%) was forecast to increase faster.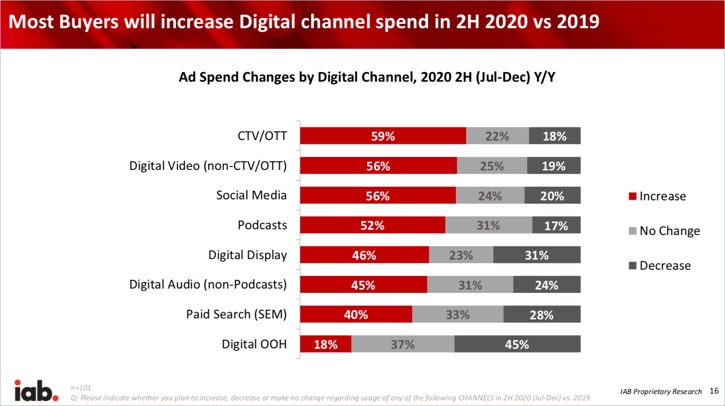 Interest in CTV/OTT is up considerably compared to the IAB's prior ad buyer survey, released at the end of March. In that survey, 35% of respondents said they intended to increase their CTV/OTT spending in the remainder of Q1 and for Q2, with 50% planning no change. That survey was fielded just after the pandemic's initial outbreak.

Since then, with sheltering at home guidelines in place, use of CTV/OTT has surged, with multiple data points pointing to an acceleration in adoption. For example, Leichtman Research Group found that 80% of U.S. TV households now have at least one CTV and the mean ownership in CTV households is over 4 CTVs. LRG estimates over 400 million CTV are deployed in the U.S. alone. The increase in CTVs and a proliferation of ad-supported services helped drive up CTV ad impressions 36% in the last week of May, according to Innovid.

While second half 2020 CTV/OTT ad spending plans are strong, just 22% of survey respondents said they plan to increase spending on linear TV, with 24% planning no change, and 54% planning to decrease. Linear TV spending is forecast to be flat in Q3, and down 6% in Q4. Yesterday GroupM forecast that total TV advertising will drop 7% in 2020.

Overall IAB found that 51% of ad buyers plan to spend less in 2020 than in 2019, with 26% planning to spend more and 23% planning to spend about the same. 49% of buyers are confident or very confident in the stability of their budget for the rest of 2020, which drops to 41% in 2021. 72% completely or partially agree that the 2020 NewFronts are more important to their business than a year ago. 49% would like to see the TV upfront and digital NewFronts merge, mainly for the benefit of cross-screen measurement and consumer insights and trends.

The survey included 148 media planners, media buyers and brands. The full report can be accessed here.