Wednesday, April 13, 2016, 11:03 AM ET
|
As video viewing on Facebook has soared, the company has been dogged by "freebooting," whereby certain users rip copyrighted videos from YouTube and re-post them natively on Facebook. The problem has been widely reported and was perhaps most famously documented in a blistering critique last August by Hank Green (in that piece, Green highlighted data that in Q1 '15, 725 of the top 1,000 videos on Facebook were freebooted, accounting for 17 billion views).

Being perceived as a place where copyright piracy is rampant is obviously detrimental to Facebook's efforts to court brands, celebrities and publishers, an initiative which has dramatically ramped up as the company has prioritized video. All this is why Facebook's announcement yesterday of its new "Rights Manager" tool is an extremely important first step in helping legitimize Facebook as a publisher-friendly video platform.
Rights Manager looks very similar to YouTube's Content ID (remember when YouTube had a similar copyright infringement problem, which Google moved swiftly to fix). Rights-holders upload reference copies of their videos, which are then monitored for duplicates by other users and reported (bulk uploading is also enabled via an API). Rights-holders can set various rules about when copies can remain in place and grant specific permissions to certain pages or profiles.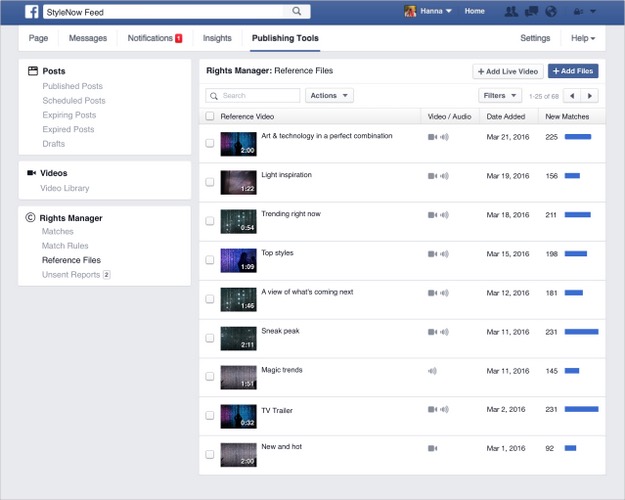 The system extends to live videos as well, which is important because with recent Facebook Live updates, this is a big growth area. Live is a unique problem because infringers will re-broadcast live events on their own pages.

One difference between Rights Manager and YouTube's Content ID is that the latter gives rights-holders the ability to not only allow duplicates to remain active, but also to collect revenue from ads that run against the duplicates. I've always thought this was a very clever move by YouTube, because it means that the rights-holder can in effect turn pirates into partners. For now at least, Facebook did not announce any similar feature.

Publishers need to apply for access to Rights Manager, but I'm guessing Facebook will move as quickly as possible to make Rights Manager available to all publishers. As this happens and Facebook adds more features, Facebook will become a more legitimate publishing environment, for video, which will in turn mean more publishers will be inclined to use Facebook as a video platform partner.