Monday, October 3, 2011, 9:46 AM ET
|
Tremor Video is announcing later this morning that its Video Hub in-stream video ad analytics platform is now available for brands and agencies to license for use with any 3rd party ad server, ad network or publisher. Tremor unveiled Video Hub in May and since then over 200 brands and agencies have used it with Tremor's own ad server on its ad network as the company finished up development. Anthony Risicato, Tremor's GM for Video Hub told me last week that reactions from these early users have been positive and they've been eager to expand their use of Video Hub to also track and measure the effectiveness of non-Tremor elements of their video ad campaigns.
Video Hub allows brands and agencies to gain greater insight into their campaigns' performance by tracking a variety of "signals" or variables and then reporting on how each one is impacting specific brand goals. This broadens brands'/agencies' focus beyond the traditional content provider/publisher environment. Video Hub still tracks the impact of where video ads run, but other signals as well such as content category, geo, time of day, day of week, video view history, frequency, demo, browser type and operating system.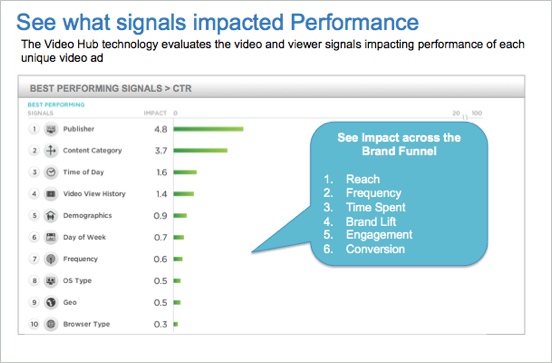 Video Hub then scores how each of these signals impacts campaign goals including reach, frequency, time spent, brand lift, engagement, click-throughs and conversion along with an overall view of the campaign's performance, all in real-time. With the data in hand, brands and agencies can re-allocate campaign spending to optimize the specific goals they're pursuing. Anthony said sophisticated brands and agencies have been startled by the level of detail the Video Hub dashboard contains, which they can now leverage across all of their video buys.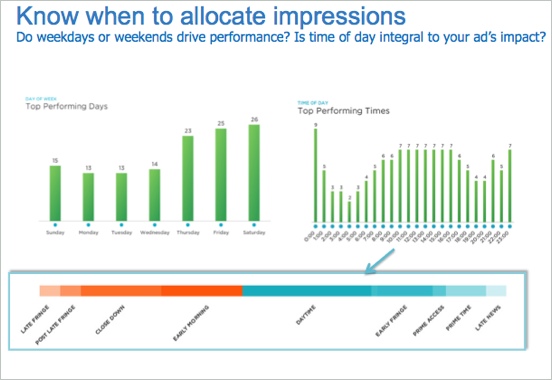 Video Hub was set up as a separate division of Tremor Video last February to ensure data privacy. Video Hub is yet another example of how the online video ad industry is continuing to mature, offering buyers better tools to gauge their spending effectiveness and improve accountability. These are the kinds of optimization building blocks necessary to expand the market and lure over more traditional TV dollars.
In addition to Video Hub's wider availability, Tremor is also announcing Video Hub Marketplace today, which is a self-service platform for earlier-stage and regional video advertisers to buy inventory on Tremor's network and others. It includes a set of baseline reporting capabilities available in the full Video Hub platform.