Thursday, May 28, 2020, 12:27 PM ET
I'm bullish on ad-based free streaming channels on Connected TVs. eMarketer projected the CTV ad market would grow to $14B in 2023, double the 2019 figure. Why is the Free Ad-based Streaming TV market, or FAST, so hot?

Because after a decade of flubs by TV OEMs, they've finally nailed it. Many licensed Roku. Others, Android TV. Samsung iterated to get steadily better. LG's Web OS was good from the get-go. And Vizio's revamped SmartCast gained accolades at CES. This is in addition to the blockbuster success of OTT set-tops like Roku and Fire TV. Another factor? The rapidly maturing live linear streaming tech stack. It is far less glitchy and buffery than a year ago even, and costs are dropping.

It adds up. Unboxing a TV is a new game. Just connect to Wi-fi and watch hundreds of free channels of news, sports and entertainment within seconds. No roof climbing. No scanning. No input switching. No cable guy.

And more are coming. The Consumer Technology Association projected 41 million new TVs will be shipped in the US this year. Nielsen says we have 120 million homes. Just spit-balling here, but every three years we're sending another new TV -- with hundreds of free streaming channels -- to every home in America?

So why should we curb our enthusiasm?
Because in the race to fill these streams with ads, I fear a race to the bottom.

We ran a quick-take sentiment survey to understand how average consumers feel about TV ads. We know people don't like them. It's obvious that the idea of interrupting a narrative to present a (louder) word from barking sponsors is a tightrope to walk.

How strong is that emotion? And what does it look like after years-long initiatives to cap frequency, sequence creative, target messaging and reduce loads?

We asked 502 internet users in the US. The result is below.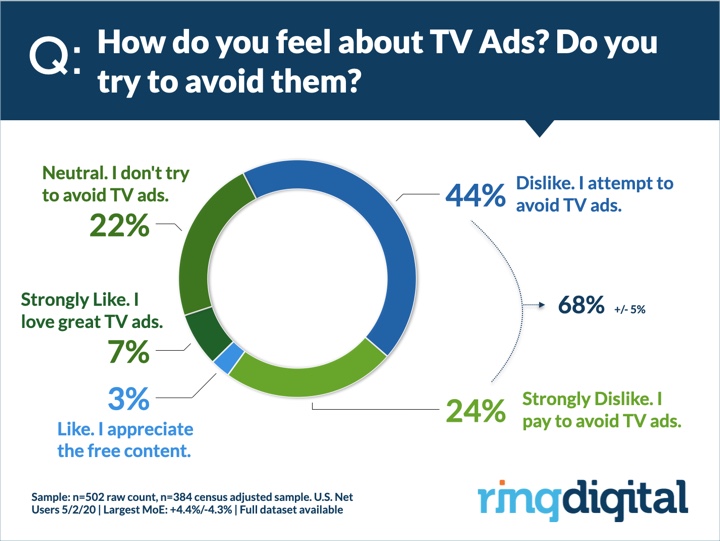 It's not surprising that respondents would claim to dislike ads in a survey. Another caveat: Respondents were internet users, thus excluded a chunk of the broadcast TV audience. But I would not have guessed such a strongly negative sentiment for two-thirds of the US internet population. It feels untenable.

(For more Ring Digital surveys on the nooks and crannies of changing TV viewing behavior, access over twenty reports for free)

We need to do better.

Recently, I had the pleasure to work with the Channel Management division of LTN Global, precision experts in SCTE 35 linear ad signaling metadata. I was struck by the many possibilities for improvement.

With more advanced usage of frame-accurate linear metadata, we can reduce distracting, out-of-sync ad replacements. We can reduce fraud and blank slates by allowing more time for pre-prep, pre-bid workflows. We can expand inventory on Smart TVs with Open Addressable Ready watermarks. Channels and distributors can build more robust commercial policies, including new mixtures of audience plus content targeting.

Ultimately, we may see not only dynamic ads in linear TV, but also dynamic ad loads. (This will require more innovation in scheduling and playout.)

A few months ago, I noticed my son getting frustrated by non-frequency capped creatives while watching Brooklyn Nine-Nine. I thought to myself, "Don't they know how counter-productive that is?" Indeed, it was the catalyst for this survey.

Recently, I heard something new. "Wow, Dad. Have you heard of Febreze? You wouldn't believe how many different products they have!"

More creative! An improvement indeed. Let's keep going.