Monday, October 4, 2010, 8:24 PM ET
|
Raising the bar on Android smartphone promotions further, Verizon Wireless just started a campaign where if you buy an HTC Droid Incredible for $200, you get any other smartphone or phone of equal or lesser value for free (caveat, it must also have a 2-year $30/mo data plan). The offer means that you can get a new top-of-the-line Samsung Galaxy S Fascinate for free. I noticed a full-page ad for the promotion in the Boston Globe, and Verizon Wireless is also running TV ads (below).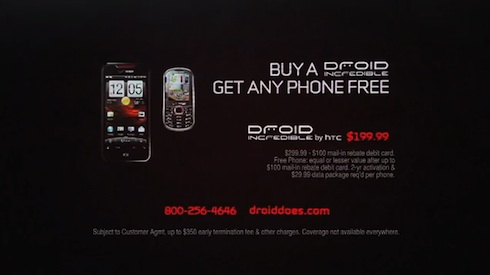 One of the big reasons why Android smartphones are proliferating so fast is wireless carriers' promotional support. The result is that millions of users are now carrying video-capable smartphones, in turn fueling mobile video consumption.
Samsung in particular has positioned the Galaxy S line heavily around video, and you've likely seen an ad(s) with the spectacular "Super AMOLED" screen on full display. The iPhone has also emphasized video, but the Android push is significant because once version 2.2 is fully available, Flash 10.1 will run, opening up a huge swatch of Flash-formatted video that isn't accessible on the iPhone (or iPad).
The expanding base of video-capable smartphones, coupled with upcoming 4G rollouts, has huge potential for transforming the video landscape. Especially for young people, the notion of video being locked to a big-screen TV will be as out of date as black-and-white TV was for a prior generation. Add in all the activity around tablet computers and things only get more interesting.
Update: No sooner did I post this than Nielsen
released
new data that of people acquiring smartpohones in the last 6 months, Android led with a 32% share, followed by iPhone and Blackberry at 25-26%.
What do you think? Post a comment now (no sign-in required).