Evian has released its latest online video ad - "Evian Baby Inside" this week, and once again it has cracked the code on executing a memorable, engaging, and likely-to-go-viral campaign. Baby Inside follows Evian's hugely successful "Roller Babies" ad from 2009 which has already racked up over 38 million views on YouTube. Both ads are part of Evian's "Live Young" theme and were created by the agency BETC Euro RSCG.
In the new Baby Inside campaign, a series of adults are shown dancing while wearing white T-shirts imprinted with the body of one of three different babies on them. By using stop-action and quick cuts, the viewer's eye quickly acclimates to the adult heads becoming one with the babies' bodies. It's very compelling concept and the catchy soundtrack further embellishes the experience.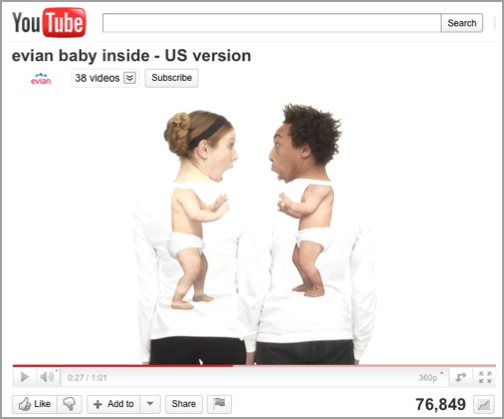 But as clever as the 1-minute ad itself is, the smartest part of Baby Inside is how viewers are incented to participate by contributing to their own short videos, in a joint effort to create the "longest music video ever." Despite Roller Babies' huge viral success, the one thing it lacked was a meaningful way for viewers to engage. With Baby Inside, Evian has set up an easy interactive experience where fans can use their web cams to make and upload their own short videos, to be featured as part of the montage. T-shirts are also available for sale. Of course these clips can be shared easily to their Facebook and Twitter friends, thereby increasing the campaign's buzz.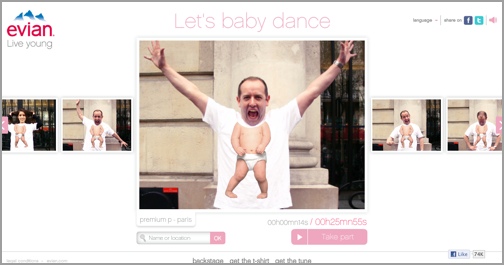 While it will be hard for Baby Inside to exceed Roller Babies' phenomenal viral success, it's going to be another solid hit for Evian. When you think about how intensely competitive the bottled water industry is, and how difficult it is to differentiate one product for another, it's exactly these kinds of creative online video campaigns that gain mindshare which help drives sales. Evian is using online video to break through and get people talking about Evian. That alone is a major victory.
What do you think? Post a comment now (no sign-in required).
Note: At ELEVATE: Online Video Advertising Summit on Tues, June 7th, one of our themes will be exploring best practices in how brands can leverage online's unique attributes to do great creative, at scale. Please join us, early bird discounts now available!