Monday, June 16, 2008, 10:30 AM ET
|
If you've ever hungered for insight about a specific video's performance beyond just how many views it has received, Visible Measures is a company after your heart. An independent firm that measures the reach and engagement of broadband video across the Internet, VM heralds an era of ultimate insight into how each and every video performs when it enters the Internet's fast-moving current.
By integrating its code with the video player, VM collects data on session length, drop-out points, rewind activity, click-throughs, viral distribution, geographic usage and other metrics. Think of VM as "big brother-esque" (in a positive way) in tracking a video's "true reach" as VM puts it, supplying a dizzying array of data to content providers and advertisers. The data is presented in intuitive, graphical formats that analysts can parse and sort to understand the video's ROI and what can be done to improve performance next time around. The company is already tracking over 80 million videos in its database.
I recently spent time with Matt Cutler, VM's VP of Marketing and Analytics who gave me a demo of the system and how it's being brought to market. VM is targeting established and early stage media companies, advertisers and ad agencies, all of whom have a critical stake in developing business cases for video deployments and ad campaigns. VM's tracking capabilities are especially meaningful given how pervasive the "syndicated video economy" is becoming.
None of this is to suggest that VM's data will replace programmers' and advertisers' creative instincts, but it would surely provide some real world augments to help offset the inherent guesswork involved in the creative process. (for more specifics about how VM works, see the below video from DEMO '08)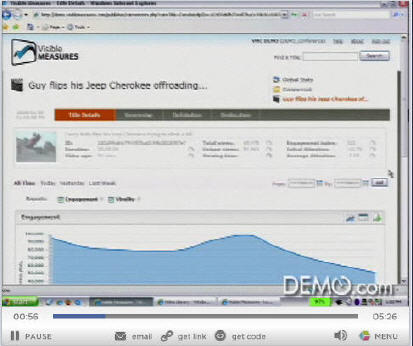 For advertisers specifically, today VM is announcing both its "VisibleCampaign" solution to measure ad campaigns' performance and also a collaboration with Dynamic Logic to track how these campaigns affect a brand's perception. Both initiatives are important in helping advertisers and agencies gain more insight about the broadband video medium and why it's important to invest. As someone who has expressed concern that the broadband ad business needs to mature quickly to support the myriad startup and established media companies relying on it, VM's will surely help decision-makers across the board gain comfort in shifting over more of their budgets.
VM is a perfect example of innovation needed to help optimize a new medium as it takes root. The company has raised $19 million through three rounds and is based in Boston. Based on what I've seen I'm quite enthusiastic about its odds of success.