Yesterday's announcement by Visible Measures that it raised a $10M Series C round is further evidence that broadband video companies are still able to attract financing in this brutal economic climate. Here are other video sector investments I've tracked on VideoNuze in Q1 '09:
Plus 7 others totaling over $80M in the Fall of '08, and no doubt others I've missed.
Visible Measures founder and CEO Brian Shin and Matt Cutler, VP, Marketing & Analytics explained to me yesterday that key to their financing was having both solid short-term traction in the form of customer acquisitions and a long-term story built around increasing transparency and accountability for the burgeoning broadband video medium. This echoes criteria I continue to hear from other industry CEOs successfully raising money in this environment.
Since I initially profiled Visible Measures last June, and then followed-up with a post about their deal with MTV Networks last September, the company has continued to build momentum. Brian said that it's now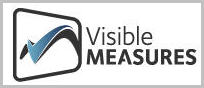 powering video measurement and reporting for many of the largest web properties and dozens of advertisers. Revenue is about evenly split between the two categories.
Despite its progress, Brian explained the company has maintained a relatively low profile because neither it nor its customers have wanted to publicize their activities. Brian said there are a few competitors but none that he feels are that close to offering what Visible Measures has, and he'd like to keep it that way by being low-key about their wins. Skeptics might say "a publicity-shy early-stage company? Hmm...." but knowing Brian and his team as I do, I know that's been their approach since starting the company.
Brian added that the new round, led by Northgate Capital, a fund of funds that has also does some direct investing, "presented itself" without Visible Measures out looking for it. But Brian was quick to note that he considers the company extremely fortunate, given that he believes the current environment is even tougher than the post-bubble years in 2001-2003. Northgate is a limited partner in MDV-Mohr Davidow Ventures, one of the company's two original investors, along with General Catalyst. The company has raised a total of $29M to date.
Visible Measures plans to use the new funds to accelerate product development and grow faster. Brian and Matt made repeated references to the mountain of tracking data the company is sitting on, and that many people are interested in accessing it (which I can believe). The intent is to further productize the data, though no specifics were offered.
With publishers facing more pressure than ever to monetize effectively, and advertisers' need to understand the ROI of their spending intensifying, Visible Measures is at the intersection of two very strong trends in the fast-growing broadband video industry. It's also a textbook "syndicated video economy" company, which is yet more wind at its back. I've been bullish for a while on the company's prospects and continue to be so.
What do you think? Post a comment now.