Thursday, March 3, 2011, 9:49 AM ET
|
The new iPad 2 - faster, thinner and lighter than the original, and with an ingenious new "Smart Cover," is yet another impressive technical achievement from the design wizards at Apple. But as with all consumer electronics products, those attributes will only go so far in compelling consumers to crack open their wallets and buy. Steve Jobs knows better than anyone in the world the gadget marketer's manifesto, "It's not what it

is

, but what it

does

," so it's no surprise that as sexy as iPad 2 is, yesterday he also rolled out exciting new ways the iPad 2 can be used. The common theme: video apps are going to be critical to driving iPad 2's sales.
First and foremost is FaceTime, Apple's video chat app that is enabled on the iPad 2 with the addition of a VGA front-facing and 720p HD rear-facing camera to the device. These upgrades address the single-biggest criticism of the original iPad (aside from the inability to play Flash-based video) - that a device so conducive to personal video chatting shipped without the onboard cameras to do so (which in turn led to conspiracy theories that the cameras had been purposely left out to give the subsequent release extra juice).
While experienced Skype users will argue that FaceTime offers little that is new, the fact that it is just slightly easier to use, and benefits from the Apple halo effect, has helped it get off to a successful start since being introduced last year. Now the iPad 2 is poised to take FaceTime to the next level. With the Smart Cover's ability to prop up the iPad 2 to a comfortable, almost-vertical angle, it is easy to envision the device sitting on a breakfast table or desk corner, ready for FaceTime to create a Jetsons-like experience of video calling. Switching to the rear-facing camera lets the iPad 2 user share their perspective with their chat partner. iPad 2 also allows recording with the rear-facing camera for offline sharing and there's even a new version of iMovie for quick editing.
While FaceTime is the "steak" in iPad 2's video push, there's some intriguing "sizzle" as well. Top on the list is the new "video mirroring" feature which uses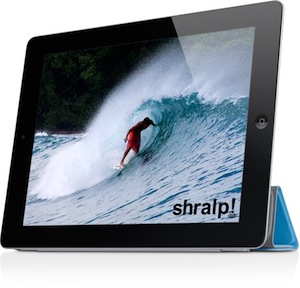 a $39 Digital AV Adaptor to emulate the iPad 2's screen on any HDMI-capable monitor, with video delivered up to 1080p. For presentations at the workplace or school this is an exciting new capability. It also means that the iPad 2 becomes something of a mobile set-top box, allowing users to view their favorite videos on big screens outside their home. The example that comes immediately to mind is loading a few TV shows or movies into iTunes and then connecting the iPad 2 to the hotel room's TV so the kids can be easily entertained. No more packing DVDs and having the kids hunched around a tiny portable DVD player's screen with crappy audio (just keep in mind this is iTunes only).
I'm eager to see video mirroring in action; if it's as straightforward as the demo reel suggests, I think it's going to generate a lot of excitement. Related, the AirPlay feature on the iPad 2 means users can wirelessly transfer video to their big screen with one click (the caveat here is that an Apple TV connected to the TV is required). AirPlay is one of a number of ways that video being viewed on portable devices can be easily transferred to the big screen.
Obviously there are tons of things to do with the iPad 2, just as there were on the original. But once you get past the improvements in the form factor and performance, it feels like Apple is banking heavily on these video apps - and others to follow - to really drive iPad 2's sales. Now if Jobs would only relent and allow the iPad 2 to play Flash video, the package would be complete.
What do you think? Post a comment now (no sign-in required).