Thursday, July 15, 2010, 8:24 AM ET
|
The smartphone market takes another important step forward today as the Droid X officially becomes available. Made by Motorola, powered by Google's Android OS and sold exclusively by Verizon, the device has received rave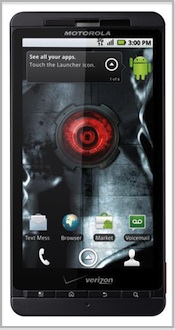 reviews from those who have tested it. The Droid X is particularly interesting to me because it sports a 4.3 inch high-resolution display that makes mobile video watching more satisfying than ever. In addition, the Droid X takes 720p HD video, making it a high impact pocket video camera as well.
As I wrote last month when the Droid X was unveiled, watching video on the device itself is only half the pleasure. Because the Droid X has both a mini-HDMI output and is DLNA compliant, it offers the opportunity to connect to the big screen TV to watch videos and browse photos there, making it a "mobile set-top box." This is a very exciting prospect and yet again creates new video value.
I've been testing the HTC Evo from Sprint for the last month, which has a similar screen size to the Droid X and also has the HDMI output. It's very cool to be able to shoot HD video on the phone and then immediately be able to connect it to the TV and play it. My experience is that video stored locally on the Evo plays really nicely, but unfortunately when video is played over the network there's a fair amount of degradation, which may partly due to Sprint coverage at my house. I'm planning to get a Droid X and will be interested to see how they compare.
Regardless, it's still very early days in terms of the high-quality video features (both playback and record) for this new generation of smartphones and what we're seeing now is just a preview of things to come.
What do you think? Post a comment now (no sign-in required).