Tuesday, June 21, 2011, 4:09 PM ET
|
Time Warner Cable is sending the below email to subscribers promoting the WatchESPN app for anytime/anywhere Wimbledon viewing. The email is the first consumer-facing example I've seen of a cable operator promoting a specific cable programmer's TV Everywhere app.
The email's copy hits the right messages nicely, emphasizing free access for existing Digital TV customers, anytime/anywhere/anyplace access on mobile devices and tablets, and easy app download instructions. The email is a winner in terms of getting the message out that TWC understands its subscribers' new viewing expectations and that it delivering a service that meets them.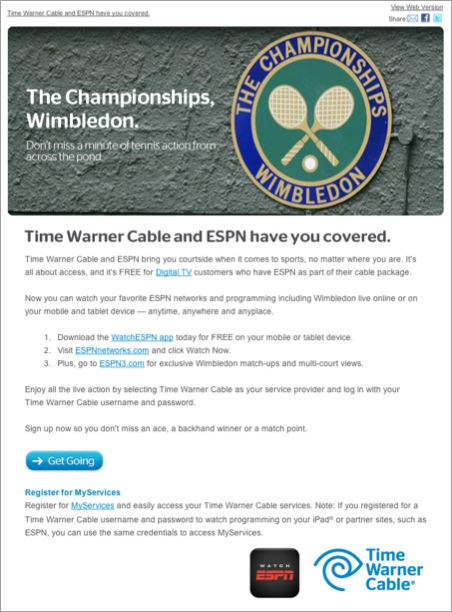 This type of tangible proof point is essential for the cable industry to demonstrate that TV Everywhere is real and that it's not going to let over-the-top services like Netflix, etc. alone position themselves as tech-friendly. The challenge has been that in the 2+ years since the curtain was raised on the TV Everywhere concept, there's been no shortage of media coverage, but only nascent actual market activity (and the initiatives that have been unveiled have sometimes received a bumpy reception from programmers, with the fracas over TWC's own iPad app with linear channel delivery being a notable example).
What's different with WatchESPN, and no doubt what accounts for TWC's promotion, is that it's part of a larger TV Everywhere-oriented renewal deal between TWC and Disney/ESPN, struck earlier this year. More of these types of deals are clearly needed in order for operators to promote these services more heavily.
Coincidentally, last week I hosted Disney/ESPN's EVP of Affiliate Marketing and Sales David Preschlack in The Park at the Cable Show. During our session David explained exactly what WatchESPN is and he does a short demo. We also discuss why TV Everywhere is so

strategic for the industry.
(hat tip to Ed O'Brien for alerting me)