From time to time I'll take the opportunity to bring worthwhile industry events to your attention. In this spirit, there will be a terrific complimentary webcast this Wed, Dec. 12, entitled, "Pre-Roll vs. Overlay: Consumer Reaction to New Online Video Advertising Formats."
The webcast is hosted by the Internet TV Advertising Forum and Maven Networks. If you're motivated to learn about what real consumers think about different types of broadband video ad formats, then I believe this 1 hour webcast will be well worth your time.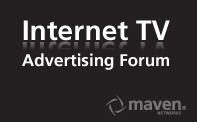 (Note: I have no financial interest in the Forum, this webcast or Maven Networks.)
The Internet TV Advertising Forum, which was founded by Maven, includes a group of leading companies such as Digitas, DoubleClick, Fox News Digital, Microsoft, Oglivy, Scripps Networks Interactive, TV Guide, 24/7 Real Media and 4Kids Entertainment. The Forum is working to define the next generation of broadband video advertising strategies, formats and best practices.
The Forum conducted a series of usability tests in October, 2007, to study new, interactive ad formats designed for broadband video. During the webcast, Jeff Rosenblum, co-president of Questus, the market research firm that oversaw the usability testing, will share the data and conclusions.
As many of us would agree, 2007 has been marked by an increasing awareness that ad-support is going to be the primary business model for broadband video, at least in the near-term. Yet there is still much uncertainty about how best to capitalize on the advertising opportunity. So I view events like this, which further industry participants' understanding of what consumers want, as crucial to building consensus and standards necessary for the broadband video medium to succeed.
Maven has graciously invited me to share some context about the broadband video industry at the beginning of the webcast. Again, I have no financial stake in this event. Rather, I view it merely as an opportunity to share some thoughts, learn alongside all of you about the conclusions of this usability testing and participate in the follow-up Q&A session.
If you're interested in this complimentary webcast, click here to register.