Tuesday, April 1, 2008, 1:09 PM ET
|
The stampede into broadband-only comedy shorts continued yesterday with Sony launching "C-Spot". The six short series will run on Sony's Crackle.com, YouTube, AOL Video, Hulu, Verizon Wireless' VCAST and others likely to come.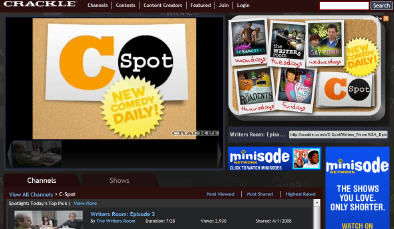 Comedy has been such a popular genre online because it is cheap to produce, easy to digest in short bursts and doesn't require story narratives to be compelling. What we've seen to date largely appeals to the young male demo which can't seem to get enough of the gross-out or sophomoric skits or hot ladies delivering goofy laugh lines.
I sampled a few of C-Spot's new programs and while I won't pretend to be a professional reviewer, I did find them to be a cut above some of the average comedic fare I've found elsewhere. Plus I think Sony's onto something by serializing these shorts and releasing new episodes on specific days of the week.
Though broadband is truly an on-demand medium, I continue to believe that audience-building requires habituation that is only driven by regularly-scheduled new releases. Prom Queen (though not a comedy) met with success by serializing, and I've been surprised there haven't been more imitators to date.
Regardless of format, I'm expecting comedy will remain the broadband medium's hottest genre, attracting indies and established players alike.