Talk about the big bang theory of PR: Sezmi, the next-gen video provider, is unveiling today a public pilot project in Los Angeles, pricing for its 2 tiers of service, and $25 million in additional financing. Dave Allred, Sezmi's SVP of Marketing and Product Management briefed me on the news last week.
Sezmi hit my radar 2 years ago, when, as "Building B," its co-founders Buno Pati and Phil Wiser began pulling back the curtains on a bold plan to create a full substitute for cable/satellite/telco TV service. Key to the company's plan was its "FlexCast" model for delivering video via digital broadcast and broadband networks, to a proprietary receiver which is packed with a terabyte of storage. Having seen multiple demos of the product, I've been consistently impressed with how it combines traditional linear TV with on-demand, broadband, DVR, personalization, social networking, advanced advertising and sophisticated navigation.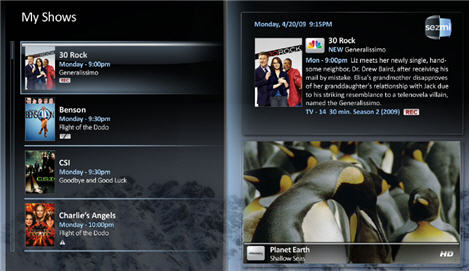 While Sezmi is the sleekest multichannel video experience I've seen, I've continued to be concerned about the following questions: Was the system technically sound and could it scale? Would the company overcome venture capitalists' nuclear winter to satisfy its fund-raising needs? Could it land a full complement of cable programming deals to offer a bona fide alternative to incumbent providers? Would Sezmi's eventual pricing live up to the company's assertions that it would be "substantially less" than today's providers? Today's announcements begin to answer those questions.
The pilot, which Dave says will be open to about a thousand LA-area residents will be the first time Sezmi will go beyond successful friends and family technical trials. The goals of the pilot are to do a final shakedown of the service before broader launch, test marketing collateral and start to scale up in advance of a Q1 rollout. The pilot will also begin a process of close scrutiny by consumers and competitors of how well Sezmi stacks up.
Pilot participants will get their service for free and be offered equipment discounts to continue after the pilot wraps up. Dave explained that going forward Sezmi plans to offer 2 tiers of service, a $24.99/mo "Supreme" option that includes all local broadcast channels in the LA market, many familiar basic cable channels (the pilot includes 23 channels, from Turner, NBCU, Discovery, Viacom and Rainbow), broadband programming from YouTube and others. Premium programming from networks like HBO, Showtime and Starz will be available on a subscription VOD basis (i.e. no linear feed will be available). A "Select" tier for $4.99/mo, which will carry just the broadcast channels. Subscribers to both tiers can either buy the equipment for $299 or lease it for $11-$12/mo (for each TV).
Sezmi's value-pricing will invite immediate comparisons to DISH Network, which has been the low-price leader in video services. On the other hand, Sezmi's next-gen technology approach will resonate most with early adopters. Dave said that the company's research consistently found a sweet spot of consumers interested in having DVR and HD capability, plus an integrated video system, but unhappy about paying $60-$70/mo, which is the typical monthly rate from cable/telco competitors once promotional discounts expire. Sezmi's belief is that people are "over-served" by today's providers and that by focusing on the basics, executing on them with a tech-forward but approachable solution and pricing aggressively the company will gain share. Its marketing strategy feels similar in some ways to what JetBlue has pursued in the airline industry.
Prospective customers will first focus mainly on Sezmi's content. As yet, Sezmi does not have deals with all the major cable programmers. Most prominently missing from the current list are the channels owned by Disney-ABC, Fox, Scripps and A&E. While its likely to assume Sezmi will eventually close those deals, until they do the company is playing with one hand tied behind its back (it's impossible to compete effectively without, for example, ESPN, Fox News or Food Network). The company's goal is to carry channels that account for 80-90% of consumers' actual viewing.
Sezmi will not have the full array of channels now available in HD. Dave explained that Sezmi's bandwidth constraints forced it to make choices. For some viewers that won't matter if the price is right; for others it will be a deal-breaker. Sezmi also will not be carrying linear feeds of premium channels like HBO, Showtime and Starz, instead focusing on offering them on a subscription VOD basis, plus offering thousands of pay-per-view movie titles. Lastly, Sezmi will have limited appeal for sports fans as it lacks content like NFL Sunday Ticket, RedZone, MLB packages and popular regional sports channels.
Still, Sezmi has a lot going for it. Beyond low price, the personalization features are likely to resonate most. Once Sezmi learns a user's profile, it automatically records programs, and organizes them into each family member's "Zone." Pressing the "mi" button on the remote provides a customized view of that particular content. Sezmi also seamlessly integrates broadband content, today from YouTube, but in the future from many others into the overall experience.
As I've described before, Sezmi's model is to partner with telcos, broadband ISPs and retailers for its go-to-market strategy (there's an unnamed partner involved in the pilot). There will be heavy marketing costs involved to educating the public about Sezmi's benefits, so partnerships are essential. While no names are being cited yet, Dave alluded to a number of key partners, who will be announced in January. I'd bet on AT&T for one, although anyone who wants to be in the video business likely will have a look at Sezmi as well, particularly those seeking to offer a triple play bundle.
Despite all the talk about over-the-top video and cord-cutting, Sezmi is still the only bona fide new competitor I'm aware of that could be a replacement for cable/satellite/telco services. The company still has a long road ahead of it, but today's announcements are solid evidence of its progress.
What do you think? Post a comment now.