Tuesday, March 17, 2009, 7:26 AM ET
|
I'm looking forward to seeing many of you tonight at VideoNuze's Broadband Video Leadership Evening at the Hudson Theater in NYC.
We'll kickoff at 6pm with our "VideoSchmooze" networking reception, and then at 7:30pm we'll begin our panel discussion with Albert Cheng (Disney-ABC Television), Daina Middleton (Moxie Interactive/Publicis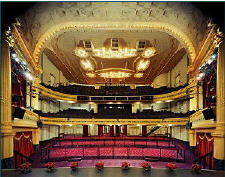 Groupe), Greg Clayman (MTV Networks), John Edwards (Move Networks) and Karin Gilford (Comcast) and me moderating.
The session is titled "Broadband Video '09: Building the Road to Profitability" and we have tons of topics to discuss. I'm looking forward to hearing all of the panelists weigh in with their insights and experience. There will be ample time for audience Q&A as well.
If you're planning to attend, I encourage you to come early, as there are over 290 people now registered, and it's going to be a bit chaotic. For those of you unable to come, we'll be recording the entire event and will post the video as soon as possible. I'll also try to share some key takeaways and pictures in tomorrow's VideoNuze email.