Thursday, April 19, 2018, 12:39 PM ET
|
You can save $100 now on registration for the 8th annual VideoNuze Online Video Advertising Summit on Tuesday, June 12th at the Westin Times Square in NYC. On top of saving $100, you also double your chances* of winning a 55-inch Roku TV, generously provided by Roku.

The Video Ad Summit is the premier event of the year for anyone in the industry seeking insights and data about online video advertising and how it's converging with traditional TV advertising, mobile and connected TV advertising and the broader digital landscape. The program includes a compelling mix of keynotes, panel discussions and research presentations covering the hottest topics in the industry. Detailed program info will be posted soon.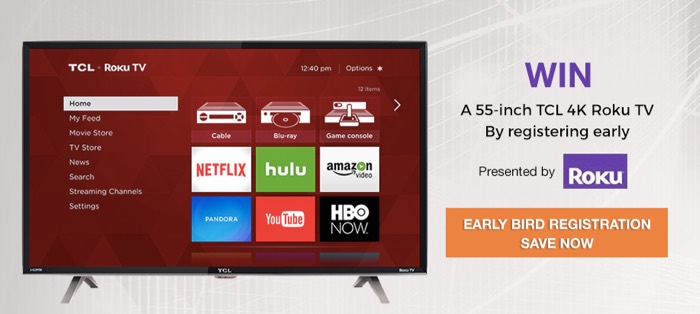 Last year's Video Ad Summit drew over 400 attendees and 50+ executive speakers. The 2018 Video Ad Summit will once again be a must-attend event.
I'm grateful to the 10 industry-leading companies on board as initial sponsors, including Premier Partners Extreme Reach and Verizon Digital Media Services; Headline Partners 4C, AppNexus, Beachfront Media, Operative and Taboola and Branding Partners Brightcove, Cedato and Roku.
If you'd like to learn more about speaking and sponsorship opportunities, please contact me.
(*Early bird registrants get 2 entries for the Roku TV drawing.)