Roku is launching its Channel Store today with 10 free channels, bidding to become the must-have broadband-to-the-TV video player in an increasingly crowded space. With the Channel Store Roku is releasing a free software developer kit (SDK) that further content partners can use to create an application to run on Roku players. Up until now Roku has selected its content partners (Netflix, Amazon VOD and MLB.TV), but the SDK helps Roku re-position itself as an open platform, available for all legal and non-adult content providers. Existing Roku players will get a software upgrade to enable the Channel Store, while new players receive the software upon initial install.
I got a sneak peak at the Channel Store over the weekend using the new Roku HD-XR player which itself was recently released. The 10 channels include Pandora, Facebook Photos, Revision3, Mediafly, TWiT, blip.tv, Flickr, Frame Channel, Motionbox and MobileTribe. The Content Store is a new icon on the Roku home screen, alongside the 3 existing partners. After selecting it, the 10 new channels' icons are visible along with their respective shows and their episodes.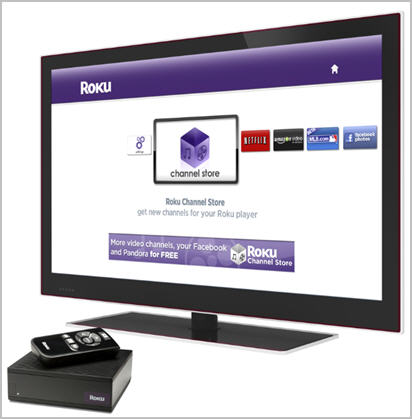 The video quality is terrific; as with prior Netflix movies I've watched there's no buffering, the audio and video are in synch, it's possible to pause, fast-forward and rewind and come back later and resume at the same spot. The only issue I had was that the start-up time for new shows was very slow, sometimes taking up to 5 minutes while the screen said "retrieving...." I'm chalking this up to using the Channel Store pre-release, as Netflix movies I also retrieved over the weekend loaded quickly as they always do.
One other minor annoyance was that to watch Revision3 shows I had to first create an account at Revision3. Only after doing so and linking my Roku to that account was I able to start watching. I guess I understand that Revision3 wants to know who's watching via Roku, but the hurdle will suppress sampling of its shows when users are in channel surfing mode. Plus, online I'm able to watch Revision3 shows like Tekzilla without an account. I'd like to see the Roku process streamlined to emulate online.
Roku's spokesman Brian Jaquet explained to me that these 10 channels are just the start. Just as Apple has done with the App Store, Roku imagines letting a thousand flowers bloom, with an expanding variety of popular content helping drive sales of Roku players. The company has set up an affiliate program so that content partners that help sell players get a commission. It is also experimenting with different internal discounts that incent partners to sell players.
As I wrote in back in August, I continue to be bullish about Roku's prospects. Though I'm generally not a fan of new special purpose boxes, Roku has a few key things going for it that make it appealing to all-important mainstream buyers: piggybacking on existing well-known brands (e.g. Netflix, Amazon, MLB, Pandora, Facebook, etc.) to drive awareness, a low price-point that neutralizes much of the buyer's purchase risk, and a dead simple process of connecting and getting started. While boxee, for example, has for now appealed mainly to early adopters, Roku has from day 1 been positioned as a mainstream product (note boxee plans to launch its own box shortly along with its beta version). The Channel Store will only help broaden Roku's appeal. If Roku could clinch a promotional deal with Netflix, that would be a killer this holiday season, especially as a stocking stuffer.
Nonetheless, I still don't expect Roku or any of the other Internet-connected devices to incite a wave of cord-cutting any time soon. These are still "fill-in-the-gaps" kinds of value propositions; access to linear broadcast and cable programming is required for any of them to be considered bona fide substitutes to cable/satellite/telco. The risk to the incumbent providers is that new devices continue getting stronger, making them appealing as "good enough" alternatives to some portion of viewers. The Channel Store gives Roku that potential, as well as a leg up on the myriad other connected devices currently hitting the market. It will be worth watching over time.
What do you think? Post a comment now.