Monday, April 4, 2011, 8:16 AM ET
|
Innovid is introducing "iRoll apps" this morning to allow easy creation and deployment of interactive pre-roll ads. In addition to popular engagement features like Facebook sharing, Twitter following, YouTube posting and custom text labels, iRoll apps also allows a range of additional apps (now or coming soon) like coupon downloads, store locator with Google Maps, ticket purchase, chat, related docs and more. Last week I got an in-person demo from Zvika Netter, Innovid's CEO and co-founder and Rob Banning, director of marketing.
With iRoll apps, Innovid is looking to jumpstart a world where all pre-roll ads include interactivity. As Zvika explained, Innovid sees the pre-roll ad itself becoming browser-like, with all interactivity built right into the video window. This kind of seamless experience means that when users click within the ad, new content and options are loaded in the window itself, rather than having new browser windows pop up, which often leads to delays and a process of getting oriented, not to mention leaving the ad behind.
Publishers' sales executives are able to take existing pre-roll creative and enhance it with interactivity in under 5 minutes. Publishers having an exciting upsell opportunity whose results can be measured. For advertisers whose interest is piqued and want to further invest, the Innovid Studio offers a full authoring environment beyond iRoll apps.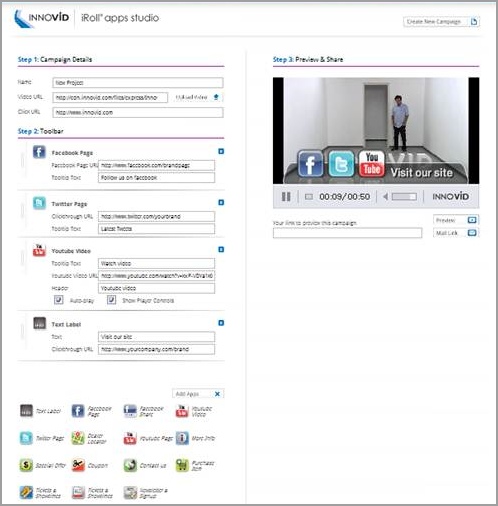 A good example is a creative campaign that Universal Pictures recently ran for its film "Paul" on MTV's sites. This iRoll included additional longer-form trailers, Fandango ticket info and theater locations, a gallery of images and more. Rob said the average engagement for the Paul ad was 69 seconds, which is impressive considering the pre-roll itself is just 30 seconds. All of the user's actions, including mouse-overs are captured by Innovid in an "awareness rate" in its analytics.
As more publishers and advertisers adopt iRoll apps, more developers will be enticed to create new apps or tweak existing ones for inclusion, giving pre-roll ads even more juice. All of this points to a far more engaging and creative palette for advertisers to utilize, which will make the 30-second passive TV ad look pre-historic pretty soon.
What do you think? Post a comment now (no sign-in required).