Tuesday, May 4, 2021, 10:50 AM ET
|
Ad buyers plan to allocate 56% of their video advertising budgets to digital video (CTV, desktop, mobile), with 41% to linear TV (linear TV, addressable, data-driven linear) and 2% to other video, according to IAB's new Video Ad Spend 2020 & Outlook for 2021 report, which is based on a survey of 350 video advertising decision makers conducted Mary 19th to April 5th. Within digital video, CTV is expected to get the largest share of spending, with 35%, followed by mobile with 33% and desktop with 32%.

CTV is expected to have the strongest growth in 2021, with 35% of respondents planning to increase budgets, followed by data-driven linear TV and broadcast/cable TV (21%) and addressable TV (15%). The primary reasons buyers behind the increase for CTV were "premium/high quality content," "trusted, brand safe environment" and "targeting."
CTV also saw the biggest jump in average video ad spending per advertiser in 2020 vs. 2019, rising 22% from $16.41 million to $19.97 million. Both desktop and mobile video were roughly flat, up 3-4% each. CTV ad spending was driven by certain categories: furniture/appliances (up 105%), retail (up 99%), CPG (up 87%) and auto (up 59%), while categories contracting included Travel (down 42%) and Telecom and Health/Wellness (each down 40%).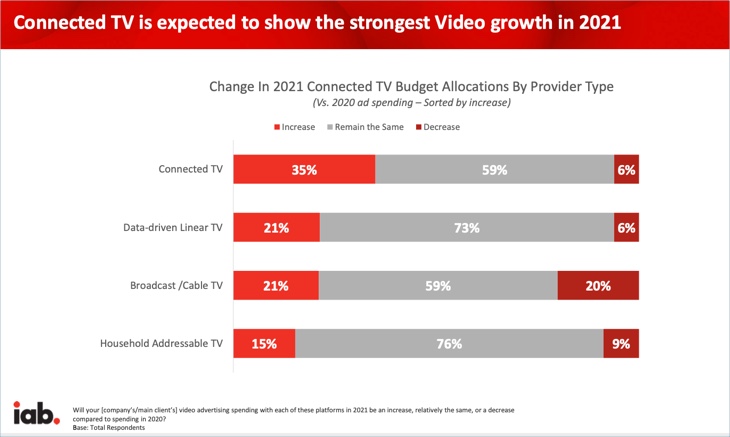 In yesterday's NewFronts presentations, Roku, Crackle, Tubi, Vizio and Amazon all highlighted that due to cord-cutting and CTV/streaming adoption, younger audiences in particular are no longer reachable through broadcast/cable linear TV. These messages seem to be resonating because according to the IAB report, the biggest source for CTV spending's increase is shifting funds from linear TV advertising (cited by 73% of respondents), followed by shifting funds from cable TV advertising (48%).

Another key theme from NewFronts yesterday was the value of first-party data that presenters have, especially as cookies are being deprecated in digital. In the IAB research, 77% of respondents said that "robust first-party data" is important in their choice of digital video partners, with 42% planning to use ad formats that "focus on first-party data and DTC engagement in 2021" and 28% saying "leveraging first-party data" is a key benefit of CTV advertising.

52% of respondents cited greater use of first-party data to personalize and target as a strategy to manage privacy concerns, followed by 51% that cited greater reliance on contextual targeting. Measurement, inability to get mass reach and high prices were cited as top challenges to CTV advertising.

For a deeper dive, join us at VideoNuze's upcoming Connected TV Advertising Summit (virtual) on June 9th and 10th. Registration is complimentary. The IAB's Eric John will be interviewing Amplifi/Dentsu's Mike Law and Cara Lewis on the agency perspective of CTV, providing more insights on today's report.