Thursday, August 10, 2017, 11:22 AM ET
|
Last night Facebook announced "Watch," as its primary video initiative. Watch is an update of Facebook's Video Tab, which was originally introduced in April, 2016, but with a greater emphasis on professional video. Facebook positioned Watch as "a platform for all creators and publishers to find an audience, build a community of passionate fans and earn money for their work." Watch will roll out to a limited number of users in the U.S. initially with a broader update coming soon.

Watch is entirely ad-supported, with partners keeping 55% of revenue and Facebook keeping 45%. Facebook is working with partners on a number of short-form shows that it characterized as falling into one of four buckets: shows that engage fans and community, live shows that connect directly with fans, shows that follow a narrative arc or have a consistent theme and live events that bring communities together (here's an initial list). As has been widely reported, Facebook is funding some of the shows itself.
While Watch is primarily a destination for videos, Facebook rightly sees a big opportunity to have videos discovered more organically through friends and communities. This is of course how Facebook users traditionally discover content, often through their feeds and/or friends' sharing. Shows will have their own pages and Facebook Groups so they can be followed and flow into users' regular routines.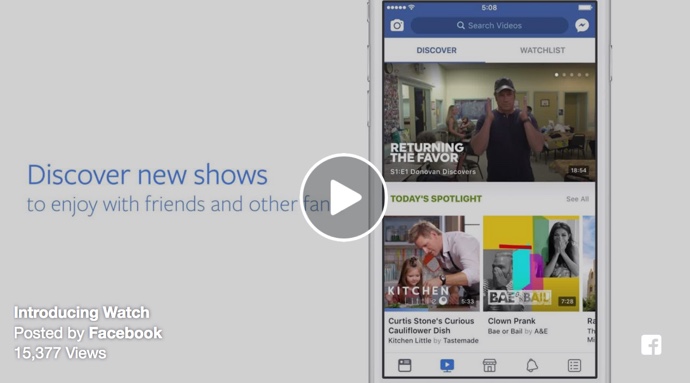 But Facebook is doing a number of other things to give videos more prominence and better develop community. A Watchlist feature will keep fans up to date. Sections of Watch like "Most Talked About," "What's Making People Laugh" and "What Friends Are Watching" will provide guidance to users for how to immerse themselves in Facebook video and connect better with friends around certain shows. When shows are watched, viewers will be able to see comments and connect with others while watching.

Content providers can choose whether to have Facebook insert ads and generate revenue. Facebook didn't release any details about how ads would be chosen, but no doubt they will be informed by the same data sets already used to target users.

Facebook has been signaling for over a year that it sees video as its next big opportunity. Facebook is eager to tap into video ad budgets in order to keep up its torrid revenue growth. By offering professional content Facebook is closely following the same strategy YouTube has pursued over the last several years as well.

While other companies have their own user insights, Facebook arguably knows more about its 2 billion users than any other company knows about its users, which should translate into valuable insights. Facebook can use this data not only to target ads but also to target content to certain users and share insights with both content partners and advertisers.

Even with these benefits and virtually unlimited resources, Watch represents a fundamental shift in how Facebook wants its users to engage with it. Most Facebook usage is on mobile devices, where users quickly scroll through their feeds, periodically stopping to engage with certain content for a brief period.

With Watch, Facebook imagines a somewhat more passive experience, where users break from their feeds to instead spend several minutes or longer watching video(s). This is certainly how it works on other sites, but, at least to date, that's not how most users have thought about their Facebook experience.

As I tried to explain earlier this year, this product evolution and the willingness of users to adapt are just the tip of the iceberg. Facebook also needs content providers to play ball and be able to monetize viewership effectively to keep them motivated. No doubt Facebook has become a mobile monetization machine, but video advertising has its own peculiarities, starting with measurement and transparency, 2 areas where Facebook has stumbled recently.

Bottom line, Watch represents a huge strategic move for Facebook to become more video-centric, open up new ad revenue opportunities and compete for content. Facebook has so many of the ingredients in place to make Watch a gigantic success and add a whole new dimension to the company. But execution will be key and so we'll all need to follow how Watch rolls out and what we learn along the way.