Yesterday I did an hour-long briefing with Jeremy Allaire, Brightcove's CEO/founder at their Cambridge offices.
Background
If I were to make a list of the 5 questions I've been asked most frequently over the last two years, "What do you think about Brightcove?" would easily be on the list. Certainly a lot of the attention Brightcove has generated relates to its fund-raising leadership. Through three rounds, the company has raised $82 million, including the monster $59.5 million C round closed in January 2007.
By my count the only pure-play, private broadband video company that has raised more is Hulu, which raised $100M in one round from Providence Equity. But Hulu's probably not a fair comparison given that NBC and News Corp are the company's primary owners and are contributing exclusive content. (btw, if anyone has a different take on who's raised more, please leave a comment)
So this briefing was a great opportunity to get a first-hand update and also channel many of the follow-on questions I've been asked about Brightcove. (Full disclaimer, Brightcove is a VideoNuze sponsor.) Jeremy also shared some new stats with me that haven't been disclosed before.
Positioning
Brightcove's positioning has shifted around in the 18 months since its official launch causing many industry tongues to wag.
Jeremy explained that in the summer of 2007 the company did a candid assessment of its competitive standing across areas in which it was involved. While his original vision included a consumer-facing destination site (named Brightcove TV), this assessment concluded that with YouTube's dominance, Brightcove's goal to be number 1 in that business was unlikely to ever materialize. Further, the potential for conflict with its own media customers had become real. So though Brightcove TV had 8 million unique visitors in August, 2007 according to comScore (making it the number 5 player in that space), Brightcove decided to de-emphasize it and reduce investment spending on it to zero. As a result, Brightcove TV now functions mainly as a showcase site.
The company narrowed its focus to its broadband media publishing and management platform, which Jeremy says is now used by 4,000 professional publishers (sample list here), which Brightcove thinks makes it number 1 among its competitors. These publishers operate 7,000 web sites with an estimated combined reach of 120 million unique visitors per month.
The platform business model includes an annual software licensing fee with upside revenue based on the customers' usage. Jeremy denied that the company is taking ad revenue shares in lieu of platform fees, a rumor that has persistently circulated in the market. Brightcove has also continued to build out a professional support team serving the gamut of design, support, integration and customization required by customers.
Broadband Video Market and Advertising
From Jeremy's vantage point the major media companies Brightcove is serving are aggressively focused on building out their direct-to-consumer broadband video destinations, and only recently have they begun also considering syndication. Brightcove's customers' business models skew overwhelmingly in favor of advertising support, with only negligible interest being shown in Brightcove's commerce capabilities.
On this point Jeremy and I have been in agreement for a long time - the macro factors driving ad-supported broadband businesses are very strong, while those driving paid downloads continue to be challenged. The key catalysts for paid models will be mass connections from broadband to TVs, better portability and improved competitiveness with the DVD platform. In the longer-term all of these will no doubt fall into place, however, for as far as the eye can see, broadband is going to remain an ad-dominated industry.
The follow-up question of course is, what kind of advertising will predominate? Brightcove supports a range of options and Jeremy said that recently interest in overlays is running very high, though 15 second pre and mid-rolls are still used by 99% of its customers today. There's a lot of planning or rolling out of overlays coming shortly by Brightcove customers. People.com was shown as an example of a hybrid pre/mid-roll and overlay model that Jeremy thinks will become more prevalent.
Syndication
Brightcove is also starting to see heightened interest in syndication, and the company offers a set of tools to support it. One example Jeremy showed which I haven't followed is
Sony BMG's "MusicBox" service,
which offers an array of syndication options. Sony BMG demonstrates that for sites serious about syndication, it's about far more than moving video files around to third parties. Of course the goals of syndication are still to proliferate the content and brand to drive new revenues from far-flung corners of the Internet, but the mechanisms for optimizing this can be quite involved. There's integration of players, advertising, widgets and more. I've been very bullish on syndication for a while, and the actions by Hulu and CBS's Audience Network to distribute their content show real signs of life in the syndication model.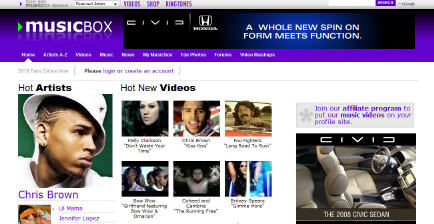 Going Forward
Not surprisingly, Jeremy's extremely bullish on broadband's future growth and sees opportunities galore to grow Brightcove's revenues by deepening its penetration of existing customers, driving more international business, especially in Asia, and expanding its fledgling presence in the enterprise/government sectors, where there's also been a lot of recent interest.
Regarding competition, Jeremy says Brightcove still sees internal development as an alternative being considered by some major media companies, though to a lesser and lesser extent recently. He also volunteered that both Maven and thePlatform are two companies Brightcove sees most often competing for deals. When asked what differentiates Brightcove, Jeremy cites product quality, ease-of-use, customer/market leadership, quality of its people and R&D. On this last point, he believes Brightcove's relatively deep pockets have helped it maintain a far more aggressive R&D budget, which grew by 300% this year.
Key upcoming priorities include launching "Brightcove Show", its new HD initiative, "Aftermix", its mash-up feature, which just finished up its beta test, multimedia capabilities (photos and audio) and enabling a slew of social/sharing features.
I couldn't resist asking Jeremy about Brightcove's last round valuation rumored to be north of $200 million. I've heard much skepticism in the market that the Brightcove's platform-centric strategy does not justify this lofty figure.
Jeremy's response is that based on the company's current revenue and recent growth trajectory, it has "grown into" its valuation and that its multiple is comparable to others he's aware of. His main objective is building a "significant global business" and if that's accomplished then there will be numerous options open for what ultimately happens with the company. He wouldn't comment on M&A, IPO or other potential exits, only saying that he feels no pressure from his investors to liquify their positions any time soon.
To achieve his global ambition, Jeremy says he's focused primarily on what actions Brightcove needs to make to dramatically scale the business, which he thinks can drive a real premium for Brightcove's valuation. To the extent that broadband remains mainly an ad-supported business, I think Jeremy correctly understands that scale - in customers, streams, usage, geographic reach, etc. - are absolutely central to success. When asked the classic "what keeps him up at night?", he cites as his chief source of insomnia the challenge of building out every part of the organization to support his goal of massive scale.
As Brightcove continues to evolve and grow, one thing is for certain - all eyes in the broadband industry will be watching its progress.