Thursday, July 19, 2012, 10:05 AM ET
|
This summer, England is the epicenter of sports video streaming; a couple weeks ago Wimbledon had multiple online video enhancements, then starting July 27th will be the Summer Olympics, the biggest live streamed sporting extravaganza ever. Sandwiched in between, running today through the weekend, golf takes center stage, as the storied Open Championship from Royal Lytham & St. Annes offers a variety of online video features to immerse golf fans in all the action.

For U.S. viewers, the centerpiece of online viewing will be ESPN's simulcasting of its 73 hours of TV coverage on WatchESPN, including 10 1/2 hours of live play of the first two rounds. Of course WatchESPN is an authenticated TV Everywhere service, so you have to be a pay-TV subscriber to access it (and not all pay-TV providers support it yet either). I've been tuning in this morning and the quality of the video is outstanding. ESPN also has a separate feed for cameras positioned at holes 1 and 18 so you can see all the players come through, plus other "outside the ropes" video and non-video features.
In the U.K, where the BBC has broadcast rights, it is providing a live feed to TheOpen.com, which is the official site of the R&A, the Open's organizer/host. U.K. viewers will also be able to see a special 3-hole feed covering all of the players coming through the 9th, 10th, and 11th holes. TheOpen.com also has companion iPhone, iPad and Android apps that the R&A built in collaboration with Ooyala, where VOD clips and other content is available.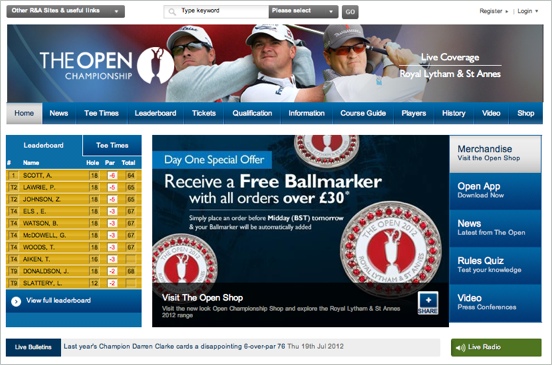 TheOpen.com's video clips actually come via IMG Worldwide, the sports agency that represents the R&A's media rights. As Mike Dierks, IMG's VP, Digital Media told me, IMG has a significant video production team on the ground at the Open this week and is producing the video as part of its larger relationship with R&A. Among other things, IMG is creating 6 hours/day of live "outside the ropes" video coverage for live streaming via Livestream and TheOpen.com.

Mike said the live coverage is meant to provide color on what being at the Open is actually like, so there will be feeds from the range, ride-alongs with caddies, chats with players/officials, etc. Of note, there will be no advertising during any of the live streaming; Mike said R&A is very careful with its "patron" (sponsor) relationships and isn't looking to drive new revenue from the online distribution.

Add it all up and golf fans will have an unprecedented, immersive experience with the Open Championship. It's the latest example of how online video is becoming a key component of sports broadcasting.