The frenzy around user-generated video ads hit a new peak yesterday as Frito-Lay announced it is offering a $1 million prize to an amateur who creates a Doritos ad that scores the highest rank in USA Today's Super Bowl Ad Meter.
I believe the new campaign, which comes on top of 2 previously successful Super Bowl user-generated video ("UGV") ad contests from Doritos, is a sure-fire winner for the brand. It reflects some very smart thinking by Doritos' executives and will further accelerate the very significant trend around brand-sponsored UGV contests (see chart below for examples of UGV contests that have run in the past year). I've been writing about the UGV ad craze for a while now on VideoNuze and I see it driving continued evolution in brand-agency relations.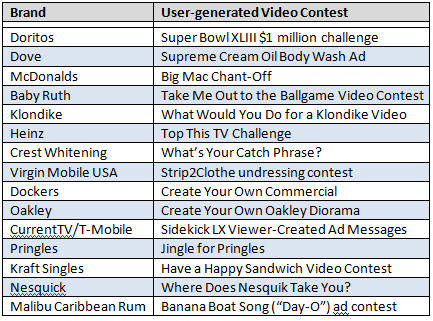 The new Doritos UGV campaign works for a variety of reasons. First and foremost, the top prize, and the four finalist prizes of $25,000 and a trip to the Super Bowl, are all very enticing awards, certain to drive tons of submissions. Winning the top prize - which requires the #1 rank in the USA Today Ad Meter - is a big-time challenge, but it is seriously aided by all the pre-game publicity this contest will be receiving. Doritos is cleverly stoking things by positioning the ad as an opportunity to "take down the big guys" - an obvious reference to Anheuser-Busch which has won the #1 rank for the last 10 years. With "Yes We Can" and "Yes We Will" political slogans ascendant, "power to the people" pitches like the one Doritos is making have a nice tailwind on their side.
This pre-game buzz means Super Bowl viewers are specifically going to be on the lookout for the Doritos UGV ad, helping its rank. Of course if you're an advertiser, especially in this ad-skipping era, viewer anticipation for your ad is close to nirvana as it gets. It builds brand awareness, engagement and presumably sales...3 big wins when you're spending an estimated $3 million for a 30 second Super Bowl ad. And of course, just think about all the free market research Doritos is collecting along the way, as loyal buyers showcase their thoughts and feelings about the product and brand.
In fact, it's Doritos' decision to morph a conventional Super Bowl ad buy into a broadband-centric, user-oriented campaign that's truly noteworthy here. VideoNuze readers know that I've been ranting for 3 straight Super Bowls that broadband opens up all kinds of new creative avenues for brands to extract new value from their game-day spending and generate a far-better ROI on the insane prices they're required to pay for this once a year extravaganza.
I have been appalled at how few Super Bowl advertisers have actually seized their broadband opportunities (note having ads playing in post-game online galleries is nice, but nowhere near what broadband is capable of). All of this has caused me to wonder whether agencies, and brands, were hopelessly oblivious to broadband's emerging role.
Doritos clearly is not among those trapped in yesterday's advertising thinking. It seems to get what broadband can do for its brand and its Super Bowl ad strategy. With its new UGV campaign, the ROI that Doritos will get on its actual game-day spend will far surpass those of its competitors. With luck that should help spur others to focus more on broadband in their future Super Bowl ads.
What do you think? Post a comment!