Friday, December 14, 2007, 9:17 AM ET
|
Here's more evidence that brand marketers are thinking progressively about how to leverage broadband video to get consumers to connect with their brands and drive sales. Today's examples are holiday campaigns from Dell and Gap.
By far the more unconventional of the two is Dell's initiative, which resides under the separate brand "YoursIsHere." It's a kooky, yet clever mini-site that opens with Burt Reynolds giving you a quickie explanation of how the site works.
Basically you select a product or products you're interested in receiving for the holidays and then enlist one of 6 celebrities (e.g Reynolds, Brooke Burke, Ice T, Estelle Harris, etc.) to make an email video pitch to your friends and family on your behalf (Dell calls this "Star Power"). Dell's taken the extra step of integrating with 4 big email providers so you can easily access your address books. You can even use PayPal if you want to "pass the virtual hat" collecting cash instead.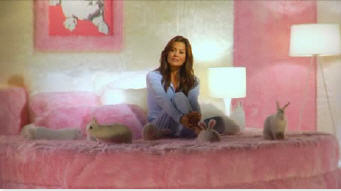 I chose a digital camera and Brooke. The video is here. It's engaging in a random sort of way ("You've caught me relaxing with my bunny rabbits." Huh?) I could quibble with some of the details of how Dell's executed the campaign, starting with the fact that the site doesn't let me narrow my choice between a digital camera, GPS or digital music player, but I won't. I give Dell lots of points for thinking way outside the box for how to use video. Somebody in Dell marketing went far out on a limb in suggesting YoursIsHere and someone else even further in approving it. Hopefully solid sales will result and that limb won't snap under them!
On the other hand, Gap's initiative, "GapTidings.com," produced with Yahoo, is more conventional, but it definitely requires more work by the user. First off, it requires a little UGC ingenuity to capture yourself giving your video greeting. Then you need to upload it, personalize it and send it to your friends and family. Gap surrounds the greeting with its branding. It's a less bold play than Dell's, but still gives users a nice opportunity to participate, while affiliating with the Gap brand.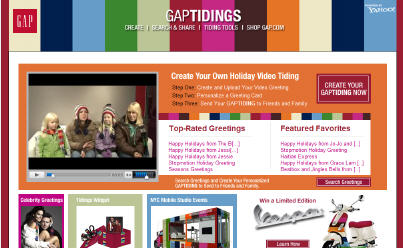 These marketing initiatives come on the heels of lots of others, some of which I described in this earlier post. I see no end in sight. Marketers are quickly embracing broadband video, which provides engagement opportunities never before available. I'm betting the upcoming Super Bowl will be a big-time showcase for more of these broadband initiatives.