Thursday, January 6, 2011, 9:47 AM ET
|
Watching the replay of Cisco CEO John Chambers presenting the company's new "Videoscape" TV platform yesterday at CES, I was reminded of the powerful, climactic courtroom scene in the movie, "A Few Good Men." In it, the tough-as-nails Marine colonel (expertly played by Jack Nicholson) barks at the cocky young Navy lawyer (Tom Cruise), "You can't handle the truth!"
Why did I see a connection? Because in his remarks, Chambers, in his own gently persuasive way, both explicitly and implicitly sent a clear message to Cisco's pay-TV customers that executing the company's vision of "reinventing the TV" will be very, very tough work (as an illustration of how complex this is, check out the eye-chart below from Chambers' talk). By delivering this "truth" to Cisco's large and small pay-TV operators around the world, they received yet another reminder that massive new investments in both technology and people will be required to effectively compete in the future video industry.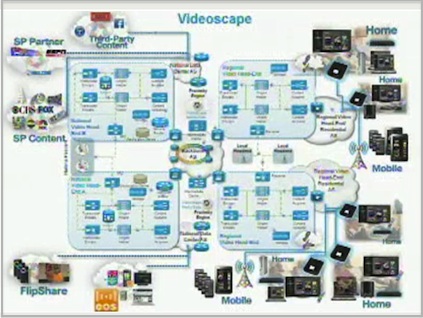 Chambers' "reinventing TV" vision is right on the money, and in fact many consumers are already enjoying certain elements of what he demo'd yesterday, illustrating how many pay-TV operators are already playing catch-up. For instance, in the Videoscape sizzle reel, there are futuristic-looking scenes of a man seamlessly handing over his viewing of a basketball game from his TV to his portable device. Yet for those of us who currently use Netflix streaming on our TVs, the ability to continue watching - from the exact point we left off - on-demand movies and TV shows on an iOS device (iPhone, iPad, iPod, etc.) has already been possible for months.
The new reality for pay-TV operators is that they are no longer competing against just one another. Rather, they are increasingly competing against the likes of Netflix, Apple, Google, Amazon and others; in short, some of the world's most technically savvy, deep-pocketed, consumer-oriented companies. These are the companies that are now setting users' expectations in online, mobile and video. To the extent that pay-TV operators can't match up, they will increasingly look like dinosaurs.
In this context, it is noteworthy that Cisco, as one of the most important technology vendors to the pay-TV industry, has signaled that it is prepared (albeit belatedly as Chambers all but conceded) to arm its customers for the new competitive battlefield. However, will any customers besides its largest be ready to bite this off? To get a sense of the challenges ahead, it was telling that just yesterday, Comcast CEO Brian Roberts disclosed that the company has an astounding 1,000 software engineers working on digital media (and even with that amount Comcast just announced yesterday video playback in its iPad app).
The point here is that the costs involved for pay-TV operators to compete effectively are going to rise dramatically. For any but the largest operators, that is going to force some hard choices. Do we step up to the plate and invest heavily to meet customers' expectations? Or do we only pursue pieces of this, while actively look for partners who may lighten some of the financial, technical and ongoing service burdens, even though that might mean relinquishing some control and flexibility? As one example of the latter route, a set-top box running Google TV could be a very compelling solution for mid-size and smaller operators who want to offer online content and interactivity but can't or don't want to deliver it all themselves. The downside however is that getting into bed with Google could be quite unnerving.
As Chambers correctly said, "delivering any content to any device over any network" is the end game. But how exactly to achieve this is the key question that is going to ricochet through the executive suites at pay-TV operators around the world.
What do you think? Post a comment now (no sign-in required).