Obviously there is no Oscar category for "Most Effective Advertisement at Oscar.com," but if there were, the hands-down winner last night would have been Unilever's "Dove Supreme Cream Oil Body Wash Ad Contest" display ads.

As many of you know, I'm a big believer that brand advertisers need to evolve their mindsets, which have traditionally called for making the cutest or the funniest or the quirkiest ad and then spending big money on placing it on popular programs, in the hopes of driving audience awareness and recall.
Instead, advertisers need to be focusing on user engagement, reinforcing brand authenticity, leveraging multiple platforms and extending the campaign's life. Dove did all of these and more with its "Cream Oil" campaign, and the resulting lessons for other brand marketers and their agencies are abundant.
Dove kicked the "Cream Oil" campaign off late last year, with a user-generated video contest asking women "how does showering yourself in everyday luxury with Dove Supreme Cream Oil Body Wash make you feel?" There were 3,500 entries received for the 30 second spot between Dec. 5th and Jan. 9th, which were winnowed to 5 semi-finalists on Jan 30th who were invited to LA for a private Oscars party. The 2 finalists were presented for viewing on Oscar.com. Dove's display ads on the site prompted visitors to click and vote for the best spot, which would become Dove's new ad. This voting process created an even larger user engagement opportunity than the original UGC contest. Capping it all off was actress Amy Brenneman, announcing the winning ad during a spot Dove bought during the Oscar telecast.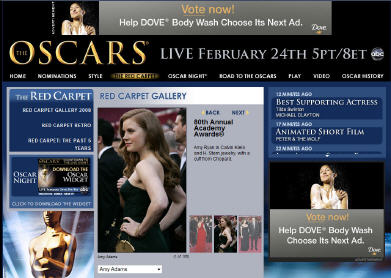 In my post last week, "An Intersection of UGC and Brand Marketing?" I proposed that brand marketers should create opportunities for passionate customers interested in expressing themselves to submit user-generated video supporting or explaining products. Dove's marketing people were clearly in synch with this thinking. The campaign shows their belief that the authenticity of the Cream Oil product could best be conveyed by real women using video to creatively express themselves. That sense of authenticity in turn resonates really well with other prospective customers. The YouTube age has conditioned many of us to appreciate each other's video more than the professionally produced, because its rough edges make it feel far more real.
Lastly, by having Ms. Brenneman announcing the winner in the on-air spot, Dove recognized that if it is going to spend $1.7 million + for a 30 second ad (last year's price), it better do more than just offer another cute, funny, or quirky spot. Instead it created anticipation, and capped off 3 months of contest excitement. I've argued in the past that these expensive on-air spots should reinforce or continue campaigns begun before and/or extended after in the broadband medium. Doing so increases their ROI, and will only raise the value of this on-air time in the future.
In the past I've been critical of brand marketers and their agencies for being abysmally slow in recognizing new opportunities broadband video presents. Yet there have been exceptions, and Dove's "Cream Oil" campaign is certainly one. Hopefully we'll see more like it in the future.
What do you think? Post a comment and let us all know!